Mini-Fellowship in Behavioral Sleep Medicine
The Department of Psychiatry University of Pennsylvania is approved by the American Psychological Association to sponsor continuing education for psychologists. The Department of Psychiatry University of Pennsylvania maintains responsibility for this program and its content. Participation in the BSM Mini-Fellowship carries 21 CE credits.
Upon completion of this series, participants should be able to:
1. Describe the etiology of insomnia
2. Describe the pathophysiology of insomnia
3. Identify the theoretical underpinnings of Cognitive Behavioral Therapy for Insomnia (CBT-I)
4. Identify the key features of sleep restriction
5. Delineate the procedures and rationale for stimulus control
6. Describe sleep hygiene (value and hype)
7. Summarize cognitive restructuring as applied to insomnia (esp. decatastrophization)
8. Identify key features (signs and symptoms) of commonly-occurring sleep disorders
9. Describe normal sleep processes (e.g., two process model) and normal/abnormal sleep architecture
10. Describe common behavioral interventions for adults with sleep disorders
11. Interpret PSG reports (interpretation of sleep continuity & sleep architecture values, AHI, oximetry parameters, and PLMI)
12. Describe actigraphic measure of sleep continuity and interpret actigraphy reports
13. Describe common methods for the medical management of insomnia
14. Summarize effects of alcohol and alcohol abuse and withdraw on sleep
15. Describe gender effects on sleep (e.g., menarche, menses, pregnancy, and menopause)
16. Observe and critique recorded therapist delivery of the components of CBT-I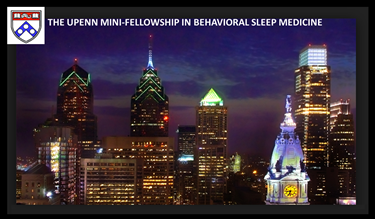 For clinicians interested in a broader exposure to Behavioral Sleep Medicine and Sleep Medicine in general, we offer a 3-day Mini-fellowship. This experience involves a small group didactic / seminar experience that covers a broad range of advanced topics and provides the opportunity for extensive QnA. This experience may be seen as the culmination of a sequence of experiences that begin with the CBT-I Principles and Practice Basic Course and the CBT-I Advanced Practice course. The Mini-fellowship may also be appropriate for more seasoned clinicians that already have some experience in CBT-I.
The dates will be the 2nd Tuesday, Wednesday, and Thursday (Bi-monthly) starting in February 2018.
Each group PMF will be (ideally) 4-5 people... where:
Day 1 is with Michael Perlis (101 questions you have always wanted to ask + other advanced topics, e.g., alternative models of insomnia, PSG report interpretation, EEG classification of sleep, sleep meds, etc).
Day 2 is with 3-4 other BSM faculty including:
Phil Gehrman PhD (signs & symptoms of intrinsic sleep DXs, assessment, & actigraphy).
Jackie Kloss PhD (Women's Health and Sleep; Sleep in Adolescence.
Babi Chakravorty MD (Sleep and addictions, Sleep Meds)
Day 3 is with Jim Findley PhD (review of recorded sessions and advanced practice issues).
Guest faculty may include: Donn Posner PhD, Erin Vera PhD, and Nalaka Gooneratne MD. Special requests for other Penn faculty are encouraged and every effort will be made to accommodate such requests.
The cost is $1699 + $25 for APA CEs per person.
Registration form may be accessed [here]
Location
PMF Address: 3535 Market Street, Philadelphia, Pennsylvania
Because we are not affiliated with a hotel or external hosting agency, attendees are responsible for securing their own accommodations. Please note that there are a limited number of hotels in West Philadelphia, so please make reservations early.
If you are not able to stay in West Philadelphia, Center City (the neighborhood opposite the Schuylkill River) offers a plethora of hotels and is a short (10-15min) walk/subway/taxi ride away!
The following Hotels (click for links) are located near the University of Pennsylvania:
Please See Below for Disclosure Information:
Contacts for the Mini-Fellowship
Dr. Michael Perlis
(215) 746-4378
mperlis@upenn.edu
Back to Top