Mini-Fellowship in Behavioral Sleep Medicine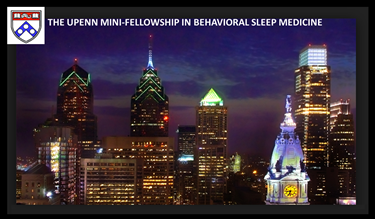 For clinicians interested in a broader exposure to Behavioral Sleep Medicine and Sleep Medicine in general, we offer a 3-day Mini-fellowship. This experience involves a small group didactic / seminar experience that covers a broad range of advanced topics and provides the opportunity for extensive QnA. This experience may be seen as the culmination of a sequence of experiences that begin with the CBT-I Principles and Practice Basic Course and the CBT-I Advanced Practice course. The Mini-fellowship may also be appropriate for more seasoned clinicians that already have some experience in CBT-I.
The dates will be the 2nd Tuesday, Wednesday, and Thursday (Bi-monthly) starting in February 2018.
Each group PMF will be (ideally) 4-5 people... where:
Day 1 is with Michael Perlis (101 questions you have always wanted to ask + other advanced topics, e.g., alternative models of insomnia, PSG report interpretation, EEG classification of sleep, sleep meds, etc).
Day 2 is with 3-4 other BSM faculty including:
Phil Gehrman PhD (signs & symptoms of intrinsic sleep DXs, assessment, & actigraphy).
Jackie Kloss PhD (Women's Health and Sleep; Sleep in Adolescence.
Babi Chakravorty MD (Sleep and addictions, Sleep Meds)
Day 3 is with Jim Findley PhD (review of recorded sessions and advanced practice issues).
Guest faculty may include: Donn Posner PhD, Erin Vera PhD, and Nalaka Gooneratne MD. Special requests for other Penn faculty are encouraged and every effort will be made to accommodate such requests.
The cost is $1699 + $25 for APA CEs per person.
Registration form may be accessed [here]
Please See Below for Disclosure Information:
Contacts for the Mini-Fellowship
Dr. Michael Perlis
(215) 746-4378
mperlis@upenn.edu
Back to Top