Publications
2023
Jgamadze D, Harary PM, Castellanos M, Blue R, Song H, Ming GL, Chen IH. Protocol for human brain organoid transplantation into a rat visual cortex to model neural repair. Star Protocols. 2023 September 15
Zhou, Y., Song, H. & Ming, Gl. Genetics of human brain development. Nature Reviews Genetics. 2023 July 28
Gracia-Diaz C, Zhou Y, Yang Q, Maroofian R, Espana-Bonilla P, Lee CH, Zhang S, Padilla N, Fueyo R, Waxman EA, Lei S, Otrimski G, Li D, Sheppard SE, Mark P, Harr MH, Hakonarson H, Rodan L, Jackson A, Vasudevan P, Powel C, Mohammed S, Maddirevula S, Alzaidan H, Faqeih EA, Efthymiou S, Turchetti V, Rahman F, Maqbool S, Salpietro V, Ibrahim SH, di Rosa G, Houlden H, Alharbi MN, Al-Sannaa NA, Bauer P, Zifarelli G, Estaras C, Hurst ACE, Thompson ML, Chassevent A, Smith-Hicks CL, de la Cruz X, Holtz AM, Elloumi HZ, Hajianpour MJ, Rieubland C, Braun D, Banka S, Genomic England Research Consortium, French DL, Heller EA, Saade M, Song H, Ming GL, Alkuraya FS, Agrawal PB, Reinberg D, Bhoj EJ, Martínez-Balbás MA, Akizu N. Gain and loss of function variants in EZH1 disrupt neurogenesis and cause dominant and recessive neurodevelopmental disorders. Nature Communications. 2023 July 11.
Salimpour Y, Anderson WS, Dastyeb R, Liu S, Ming GL, Song H, Maragakis NJ, Habela CW. Phase-Amplitude Coupling Detection and Analysis of Human 2-Dimensional Neural Cultures in Multi-well Microelectrode Array in Vitro. BioRxiv 10 July 2023.
Wang X, Sun Y, Zhang DY, Ming GL, Song H. Glioblastoma modeling with 3D organoids: progress and challenges. Oxford Open Neuroscience. 2023 July 6
Zhang F, Yoon KJ, Kim NS, Ming GL, Song H. Cell-autonomous and non-cell-autonomous roles of NKCC1 in regulating neural stem cell quiescence in the hippocampal dentate gyrus. Stem Cell Reports. 2023 July 11.
Sun Y, Wang X, Ming GL, Song H. Brain tumors on slice: A novel platform for personalized therapeutic screening. Cell Reports Medicine. 2023 June 20.
Harary PM, Blue R, Castellanos M, Dedhia M, Hamimi S, Jgamadze D, Rees B, Seshadri N, Singh S, Moreno J, Wolf J, Song H, Ming GL, Chen IH. Human brain organoid transplantation: ethical implications of enhancing specific cerebral functions in small-animal models. Mol. Psychol. 2023 June 6.
Yu H, Usoskin D, Nagi SS, Hu Y, Kupari J, Bouchatta O, Cranfill SL, Su Y, Lv Y, Song H, Ming GL, Prouty S, Seykora J, Wu H, Ma M, Olausson H, Ernfors P, Luo W. Single-Soma Deep RNA sequencing of Human DRG Neurons Reveals Novel Molecular and Cellular Mechanisms Underlying Somatosensation. BioRxiv. 2023 March 18.
Cheng Y, Song H, Ming GL, Weng YL. Epigenetic and epitranscriptomic regulation of axon regeneration. Molecular Psychiatry. 2023 Mar 15.
Kempermann G, Song H, Gage FH. Adult neurogenesis in the hippocampus. Hippocampus. 2023 Mar 13.
Hong Y, Yang Q, Song H, Ming GL. Opportunities and limitations for studying neuropsychiatric disorders using patient-derived induced pluripotent stem cells. Molecular Psychiatry. 2023 Feb 13.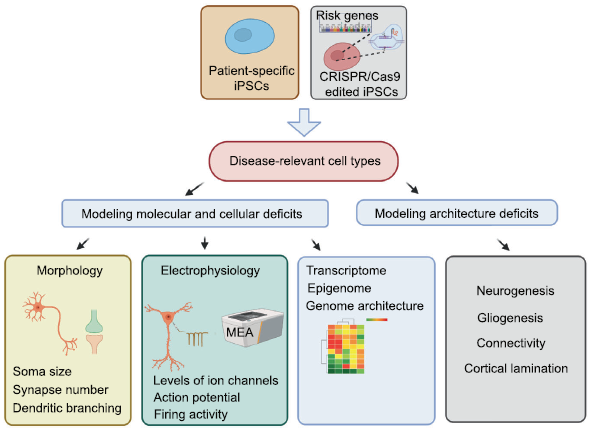 Zhang F, Yoon KJ, Zhang DY, Kim NS, Ming GL, Song H. Epitranscriptomic regulation of cortical neurogenesis via Mettl8-dependent mitochondrial tRNA m3C modification. Cell Stem Cell. 2023 Feb 9.
Zhou Y, Su Y, Ming, GL, Song H. Special properties of adult neurogenesis in the human hippocampus: Implications for its clinical applications. Cell Stem Cell. 2023 Feb 5.
Jgamadze D, Lim JT, Zhang Z, Harary PM, Germi J, Mensah-Brown K, Adam CD, Mirzakhalili E, Singh S, Gu JB, Blue R, Dedhia M, Fu M, Jacob F, Qian X, Gagnon K, Sergison M, Fruchet O, Rahaman I, Wang H, Xu F, Xiao R, Contreras D, Wolf JA, Song H, Ming GL, Chen HCI. Structural and functional integration of human forebrain organoids with the injured adult rat visual system. Cell Stem Cell. 2023 Feb 2.