Mathias Basner, MD, PhD, MSc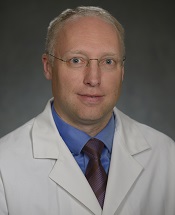 Associate Professor
University of Pennsylvania School of Medicine
Division of Sleep and Chronobiology, Department of Psychiatry
basner@pennmedicine.upenn.edu
Curriculum vitae
Research Interests
Selected Publications
Mathias Basner, MD, PhD, MSc is an Associate Professor in the Department of Psychiatry at the University of Pennsylvania School of Medicine. Dr. Basner received his degree in Medicine and his PhD in Research from the University of Bochum, Germany and his Master of Science in Epidemiology from the University of Bielefeld, Germany. Dr. Basner trained at the Institute for Applied Physiology at the University of Bochum and worked as a Research Associate at the German Aerospace Center (DLR), Institute of Aerospace Medicine, Flight Physiology Division from 1999 until 2006 before moving to the United States to pursue his research interests in the neurobehavioral consequences of sleep loss as a Research Associate. He returned to DLR in 2008 to head the Flight Physiology Division for two years. In January 2010, Dr. Basner assumed the position of Assistant Professor of Sleep and Chronobiology in Psychiatry and was promoted to Associate Professor in 2015.
Dr. Basner's primary research interests concern the effects of sleep loss on neurobehavioral and cognitive functions, population studies on sleep time and waking activities, the effects of traffic noise on sleep and health, and Astronaut behavioral health on long-duration space missions. These research areas overlap widely. Dr. Basner has published 80+ journal articles and reviewed articles for 80+ scientific journals. He is currently on the editorial board of the journals Sleep Health and Frontiers in Physiology.
Research Interests
Noise Effects Research
Between 1999 and 2008, Dr. Basner conducted several large scale laboratory and field studies on the effects of traffic noise on sleep at the German Aerospace Center. For this research, Dr. Basner was awarded the German Aerospace Center Research Award in 2007 and the Science Award of the German Academy for Aviation and Travel Medicine in 2010. Dr. Basner developed an ECG-based algorithm for the automatic identification of autonomic activations associated with cortical arousal that was used in several field studies to non-invasively assess the effects of aircraft noise on sleep. He is currently funded by FAA to obtain current exposure-response functions describing the effects of aircraft noise on sleep for the United States. Dr. Basner has been an advisor to the World Health Organization (WHO) on the effects of traffic noise on sleep and health on a number of occasions. He performed a systematic evidence review on the effects of noise on sleep for the recently published revision of WHO's Environmental Noise Guidelines for the European Region. Dr. Basner is currently President of the International Commission of Biological Effects of Noise (ICBEN) and member of the Impacts and Science Group of the Committee on Aviation Environmental Protection (CAEP) of the International Civil Aviation Organization (ICAO). He also represents the University of Pennsylvania in FAA's Aviation Sustainability Center (ASCENT). In 2018, Dr. Basner was invited to give a TEDMED talk on the health effects of noise.
Sleep Research
Dr. Basner participated in several studies on the effects of acute and chronic sleep loss on neurobehavioral functions performed at the University of Pennsylvania. Together with David F. Dinges, he developed both a short version and an adaptive version of the Psychomotor Vigilance Test (PVT), identified the most sensitive outcome metrics of the PVT, developed new sensitive metrics, and showed that the PVT is indeed free of practice effects. Dr. Basner is also interested in how different work schedules affect sleep and performance. He participated in several large observational studies, intervention studies, and clinical trials investigating the effects of extended overnight shifts and protected sleep periods on sleep duration, sleepiness, and alertness of medical interns. In 2013 and 2014, he was a member of a Transportation Research Board of the National Academies committee studying FAA Air Traffic Controller staffing levels. Finally, Dr. Basner publishes frequently on the relationship between sleep time and waking activities using the publicly available American Time Use Survey (ATUS). He found a positive trend in sleep duration between 2003 and 2014 using ATUS data, which can likely be explained by a greater awareness of the importance of sufficient sleep in the population and by more online opportunities to shop, work, bank, and take classes from home. In the most recent ATUS analyses, Dr. Basner investigated the relationship between time spent exercising and sleeping and showed that these healthy behaviors are competing for time. Dr. Basner is member of the Sleep Research Society (SRS), he was Deputy Editor of the journal SLEEP, and he is currently on the editorial board of the journal Sleep Health.
Astronaut Behavioral Health Research
Dr. Basner developed, together with his colleagues Dr. David F. Dinges and Dr. Ruben C. Gur and with collaborators from Pulsar Informatics Inc., the Cognition test battery for spaceflight. This development was funded by both NASA and the National Space Biomedical Research Institute (NSBRI). Cognition consists of 10 brief, validated cognitive tests that cover a range of cognitive domains. The tests were specifically designed for the high-performing Astronaut population. Brain regions primarily recruited by the individual test have been established with fMRI. The Cognition battery is part of NASA's Behavioral Health and Performance Standard Measures, a set of measures that is routinely performed by all astronauts on ISS missions and by research subjects in space analog environments. In 2018, Dr. Basner was awarded the International Space Station Innovation Award for Cognition by the American Astronautical Society. In 2016, the original paper describing Cognition received the Journal Publication Award for the Most Outstanding Space Medicine Article published in the Aerospace Medicine and Human Performance Journal by the Space Medicine Association. Dr. Basner performed several studies on the International Space Station and in space analog environments including NASA's Human Exploration Research Analog (HERA), the Hawai'i Space Exploration Analog and Simulation (HI-SEAS), the Russian Mars500 simulated mission to Mars, and the Antarctic research stations Concordia, Neumayer III, and Halley. Dr. Basner was one of the 10 selected principal investigators of NASA's TWINS study, in which Scott Kelly spent 340 days in space while his twin brother Mark Kelly, also a retired Astronaut, was investigated on Earth. In this interdisciplinary research project that spanned from molecular mechanisms to physiology and behavior, Dr. Basner was responsible for assessing cognitive performance in the twins. Dr. Basner is a corresponding member of the International Academy of Astronautics (IAA) and a member of the Aerospace Medical Association (AsMA).
Selected Publications
A complete list of Dr. Basner's publications can be found in his CV and here. A few selected publications are listed below.
Basner, M., Asch, D.A., Shea, J.A., Bellini, L.M., et al., on behalf of the iCOMPARE Research Group: Sleep and alertness in a duty-hour flexibility trial in Internal Medicine. New England Journal of Medicine, 380(10), 915-924, 2019.
Basner, M., Dinges, D.F.: Sleep duration in the United States 2003–2016: first signs of success in the fight against sleep deficiency? Sleep 41(2), zsy012, 1-16, 2018. PMID: 29325164
Basner, M., Dinges, D.F., Shea, J.A., Small, D.S., Zhu, J., Norton, L., Ecker, A.J., Novak, C., Bellini, L.M., Volpp, K.G.: Sleep and alertness in medical interns and residents: an observational study on the role of extended shifts. Sleep 40(4): zsx027, 1-8, 2017. PMID: 28329124
Basner, M., Savitt, A., Moore, T.M., Port, A.M., McGuire, S., Ecker, A.J., Nasrini, J., Mollicone, D.J., Mott, C.M., McCann, C., Dinges, D.F., Gur, R.C.: Development and validation of the Cognition test battery for spaceflight. Aerospace Medicine and Human Performance 86(11): 942-52, 2015. PMID: 26564759
Basner, M., Babisch, W., Davis, A., Brink, M., Clark, C., Janssen, S., Stansfeld, S.: Auditory and non-auditory effects of noise on health. The Lancet, 383(9925): 1325-1332, 2014. PMID: 24183105
Münzel, T., Gori, T., Babisch, W., Basner, M.: Cardiovascular effects of environmental noise exposure. European Heart Journal, 35(13): 829-36, 2014. PMID: 24616334
Basner, M., Dinges, D.F., Mollicone, D.J., Savelev, I., Ecker, A.J., Di Antonio, A., Jones, C.W., Hyder, E., Kan, K., Morukov, B.V., Sutton, J.P.: Psychological and behavioral changes during confinement in a 520-day simulated interplanetary mission to Mars. PLoS One 9(3): e93298, 2014. PMID: 24675720
Basner, M., Dinges, D.F., Mollicone, D.J., Ecker, A.J., Jones, C.W., Hyder, E.C., Di Antonio, A., Savelev, I., Kan, K., Goel, N., Morukov, B.V., Sutton, J.P.: Mars 520-day mission simulation reveals protracted crew hypokinesis and alterations of sleep duration and timing. Proceedings of the National Academies of Science 110(7): 2635-2640, 2013. PMID: 23297197
Basner, M., Rao, H., Goel, N., Dinges, D.F.: Sleep deprivation and neurobehavioral dynamics. Current Opinions in Neurobiology, 23(5): 854–863, 2013. PMID: 23523374
Basner, M., Mollicone, D.M., Dinges, D.F.: Validity and sensitivity of a brief psychomotor vigilance test (PVT-B) to total and partial sleep deprivation. Acta Astronautica 69: 949-959, 2011. PMID: 22025811
Basner, M., Dinges, D.F.: Maximizing sensitivity of the Psychomotor Vigilance Test (PVT) to sleep loss. Sleep 34(5): 581-591, 2011. PMID: 21532951
Basner, M., Müller, U., Elmenhorst, E.-M.: Single and combined effect of air, road, and rail traffic noise on sleep and recuperation. Sleep 34(1):11-23, 2011. PMID: 21203365
Basner, M., Griefahn, B., Müller, U., Plath, G., Samel, A.: An ECG-based algorithm for the automatic identification of autonomic activations associated with cortical arousals. Sleep 30(10), 1349-1361, 2007. PMID: 17969469
Basner, M., Fomberstein, K.M., Razavi, F.M., Banks, S., William, J.H., Rosa, R.R., Dinges, D.F.: American Time Use Survey: Sleep time and its relationship to waking activities. Sleep 30(9), 1085-1095, 2007. PMID: 17910380
Basner, M., Isermann, U., Samel, A.: Aircraft noise effects on sleep: application of the results of a large polysomnographic field study. Journal of the Acoustical Society of America 119(5), 2772-2784, 2006. PMID: 16708935
Back to Top