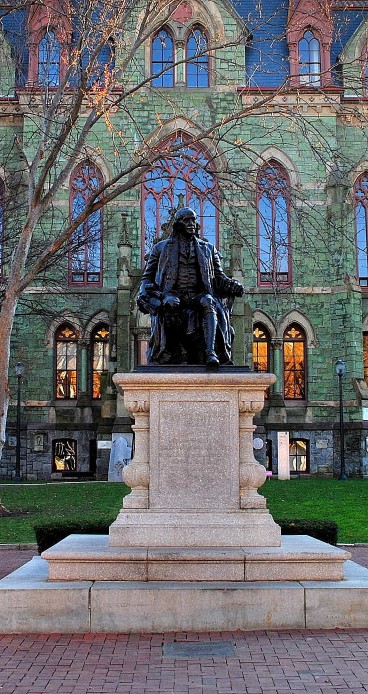 The significant growth of the CVI over the past decade has led to its evolution as a research institute with membership across the Perelman School of Medicine and broader University of Pennsylvania campus. The CVI was established in 2005 under the leadership of the Cardiovascular Medicine Division Chief, Dr. Michael Parmacek, and continued to grow under the direction of Dr. Jonathan Epstein. In 2017, Dr. Daniel Kelly was named Director of the CVI following a national search.
With the growth of the CVI, our basic research laboratories have recently been organized into three thematic discovery centers and programs: The Center for Vascular Biology (CVB, Director, Mark Kahn, M.D.), The Cardiovascular Metabolism Program (CMP), a joint program with the Institute of Diabetes, Obesity, and Metabolism (Director, Zoltan Arany, M.D., Ph.D.), and The Genetic and Epigenetic Origins of Disease Program (GEODe) (Director, Kiran Musunuru, M.D., Ph.D., M.P.H., M.L.). The new discovery units provide a collaborative and stimulating environment for scientists with similar interests across the Perelman School of Medicine campus. The Programs and Centers are recruiting new faculty scientists and launching translational research initiatives to propel the application of discovery towards clinical care. In 2022, the Penn CVI partnered with the Children's Hospital of Philadelphia (CHOP) to establish the CHOP CVI. Sketches of the CVI leadership are provided below:
Willard and Rhoda Ware Professor
Perelman School of Medicine at the University of Pennsylvania
Children's Hospital of Philadelphia (CHOP) Rachel Ash Presidential Chair
Director, Penn and CHOP Cardiovascular Institutes
Dr. Kelly obtained his medical degree from the University of Illinois College of Medicine, residency training at Barnes Hospital in St. Louis, and postdoctoral and clinical cardiology training at Washington University School of Medicine. He joined the Washington University School of Medicine faculty in 1989 and rapidly moved up the ranks to Professor of Medicine, Molecular Biology & Pharmacology, and Pediatrics, and served as Chief of the Cardiovascular Division and Director of the Center for Cardiovascular Research. In 2008, Dr. Kelly assumed the role of founding Scientific Director for the east coast Sanford Burnham Prebys Medical Discovery Institute located in Orlando, Florida, a site focused on the metabolic origins of disease. In August 2017, he moved to the University of Pennsylvania where he assumed the position of Director of the Penn Cardiovascular Institute. In April 2022, Dr. Kelly assumed the role of founding Director of the CHOP CVI together with the Penn CVI.

Dr. Kelly's research interests stem from an early fascination with rare inborn errors in mitochondrial metabolism in children which cause sudden death and heart failure. As a young researcher at Washington University, Dr. Kelly defined the genetic basis for a common inborn error in mitochondrial fatty acid oxidation, work that led to the development of practical screening tests for newborns. Thereafter, he became interested in how similar derangements in cardiac energy metabolism contribute to heart failure in common acquired forms of mitochondrial diseases caused by hypertension, ischemic injury, and diabetes. His work defined the gene regulatory circuitry governing cardiac fuel and energy metabolism through pioneering studies on nuclear receptors including the PPARs, estrogen-related receptors (ERRs), and their transcriptional coactivator PGC-1. Using integrated systems biology approaches, The Kelly laboratory has identified energy metabolic "switches" that contribute to the pathogenesis of heart failure and insulin resistance, an important step towards identifying novel therapeutic targets.
---
Cooper-McLure Professor of Medicine
Director, Center for Vascular Biology
Penn Cardiovascular Institute, Perelman School of Medicine
Dr. Mark Kahn is a practicing cardiologist in the Division of Cardiovascular Medicine at the University of Pennsylvania. He has won many prestigious awards, including the Judah Folkman Award in Vascular Biology from the North American Vascular Biology Organization (NAVBO) and has been awarded the Cooper-McLure Chair in Medicine. Mark is widely recognized nationally and internationally for career contributions in the field of vascular development and function and his expertise in signal transduction. He has made numerous scientific contributions in cardiovascular biology and disease, including his recent findings identifying the microbiome as a critical pathogenic mechanism of cerebral cavernous malformation, the identification of signaling pathways by which fluid forces control blood and lymphatic vascular function, and the discovery of several basic mechanisms of platelet activation and hemostasis. Mark has been a mentor to many outstanding PhD and MD-PhD students and postdoctoral fellows in his laboratory who have become highly successful independent scientists.
---
Professor of Medicine
Director, Cardiovascular Metabolism Program
Penn Cardiovascular Institute, Perelman School of Medicine
Zoltan (Zolt) Arany, MD, PhD is Professor of Medicine and Director of the Cardiovascular Metabolism Program at the Perelman School of Medicine at the University of Pennsylvania. Dr. Arany graduated Summa Cum Laude from Harvard College. He received his Medical Degree from Harvard Medical School and doctoral degree from the Harvard Graduate School of Arts and Sciences. After his doctoral studies, Dr. Arany completed internal medicine residency training at the Massachusetts General Hospital, followed by fellowship training in Cardiology at the Brigham & Women's Hospital and postdoctoral research fellowship at the Dana Farber Cancer Institute in Boston. He joined the University of Pennsylvania as Associate Professor of Medicine in 2014. Dr. Arany's laboratory is interested in the mechanisms that underlie metabolic pathophysiology in the cardiovascular system. Dr. Arany is also an active clinical cardiologist, teacher, and mentor. Dr. Arany is a recipient of several awards including the American Heart Association Established Investigator Award in 2012, the Hal Dvorak Young Investigator Award in Translational Research, and the prestigious Inaugural Yale Calabresi Prize in 2014 given to Dr. Arany in recognition for his work on cardiovascular metabolism. He was elected to the American Society of Clinical Investigators in 2012. Dr. Arany has published more than 90 research papers in prominent journals such as New England Journal of Medicine, Nature, Cell, PNAS, Cell Metabolism, and Genes & Development. Dr. Arany is regularly invited to speak nationally and internationally on his basic and translational research in cardiovascular metabolism. He has also received a number of teaching and mentoring awards.
---
Professor of Medicine
Director, Genetic and Epigenetic Origins of Disease Program
Penn Cardiovascular Institute, Perelman School of Medicine
Kiran Musunuru, MD, PhD, MPH, ML, is Professor of Medicine and Genetics in the Perelman School of Medicine at the University of Pennsylvania. Dr. Musunuru received his medical degree from Weill Cornell Medical College, his PhD from The Rockefeller University, and a Master of Public Health from Johns Hopkins Bloomberg School of Public Health. He trained in Internal Medicine at Brigham & Women's Hospital and Cardiovascular Medicine at Johns Hopkins Hospital, followed by postdoctoral work at Massachusetts General Hospital and the Broad Institute of MIT and Harvard. Dr. Musunuru's research focuses on the genetics of cardiovascular and metabolic diseases, and seeks to identify naturally occurring genetic variants that predispose to, or protect against, disease and can be used to develop therapies to protect the entire population. His expertise includes the use of human pluripotent stem cells as a platform for disease modeling and the use of genome-editing tools such as CRISPR-Cas9 for research and therapeutic applications. In 2016, he received the Presidential Early Career Award for Scientists and Engineers from the White House, as well as the American Heart Association's Award for Meritorious Achievement. He is currently Editor-in-Chief of the journal Circulation: Genomic and Precision Medicine.