Mission
In the Penn Digital Neuropathology Lab (DNPL), we use a multidisciplinary approach merging techniques in "wet-lab" based histopathology of human brain tissue with "dry-lab" based image analysis and bioinformatics tools with the overarching goal of improving our understanding of brain-behavior relationships and the antemortem diagnosis of neurodegenerative disease.
Currently, the diagnostic standard is neuropathological examination at autopsy, which is a major obstacle for clinical trials in neurodegenerative disease. To address this problem our approach is to "work backwards" to study human brain tissue and measure neuropathology objectively using novel open-source digital image analysis tools (please see Digital Pathology Resources); We use a "tissue-guided biomarker discovery" method to translate our findings with the ultimate goal to develop new laboratory and imaging tests to detect pathology in living patients (please see "Our Work" for more information on our approach).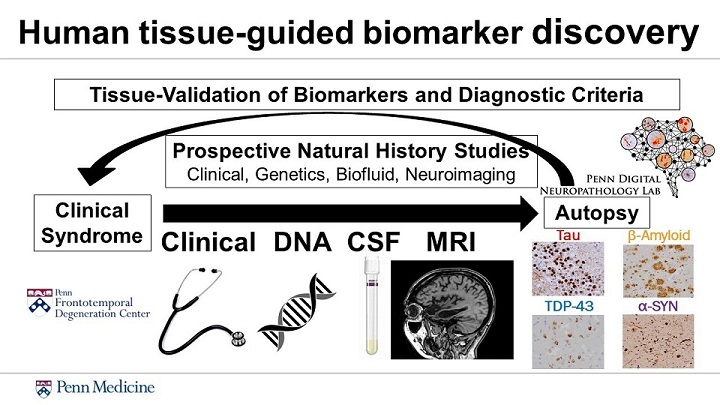 We also emphasize cognitive neurology and neuropathology education for neurologists and neuroscientists in the Penn Department of Neurology and beyond. All lab members participate in brain-cutting and review of neuropathological diagnostic criteria for neurodegenerative disease in DNPL and clinical diagnostic criteria at the Penn FTDC. David Irwin (PI) conducts a neuropathological case review for lab members as well as Penn neurology residents and fellows at the University of Pennsylvania's Perelman School of Medicine in the neurology department (please see Neuropathology Educational Resources).
Our lab is located in the Clinical Research Building Room 270 in the Neurology Department at the University of Pennsylvania Perelman School of Medicine- come visit!