Certificate in Medical Physics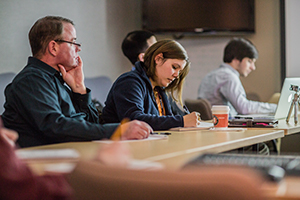 Penn's Certificate in Medical Physics offers a career pathway for individuals who have already earned a PhD in physics or a related field (e.g., engineering, computer science or physical chemistry) and a physics minor. The program is fully accredited by the Commission on Accreditation of Medical Physics Education Programs (CAMPEP). As such, our program prepares you to enter a CAMPEP-accredited residency program in medical physics, which provides you with the clinical experience required for certification by the American Board of Radiology.
The Certificate program successfully prepares students to compete for residency positions. You will have the opportunity to shadow a qualified medical physicist on an elective basis throughout your time in the program at the University of Pennsylvania or at one of our hospital affiliates.
Curriculum
The Certificate in Medical Physics provides you with a curriculum based on the recommendations of AAPM report #197S, which outlines the ideal training for a post-graduate education in medical physics. The coursework includes radiological physics, radiation protection, medical imaging, medical ethics/government regulation, anatomy and physiology, radiobiology, and the physics of radiation therapy. Six course units (CU)* (18 semester hours total) are required for the Certificate. Part-or full-time study is available beginning in the fall term. The typical full-time academic plan of study is:
Fall Term
Spring Term

Introduction to Radiation Protection (.5 CU)

Physics of Medical/Molecular Imaging (1 CU)

Image-Based Anatomy(1 CU), required by the American Board of Radiology

Radiological Physics (1 CU)

Professional Development Seminar (0 CU)

Medical Ethics/Governmental Regulation (.5 CU)

Physics of Radiation Therapy (1 CU)

Radiation Biology (1 CU), required by the American Board of Radiology

Professional Development Seminar (0 CU)
*A CU (or a fraction of a CU) represents different types of academic work across different types of academic programs and is the basic unit of progress toward a degree. One CU is usually converted to a four-semester-hour course.
Program Highlights
Professional Development and Career Mentoring
Our unique and newly redesigned Professional Development Seminar course is a required, year-long, non-credit series of presentations and panel discussions designed to prepare you for success as a medical physicist. It introduces you to the subspecialties of medical physics: radiation oncology, diagnostic imaging, nuclear medicine, and medical health physics. Our scholars and practitioners of medical physics discuss possible career paths, new treatments and devices, and other topics from the front lines of the medical physics world. It introduces you to ideas and possibilities beyond the scope of your classes and creates the possibility for networking and finding your ideal career direction.
The Professional Development Seminar also prepares all our students for success in the medical physics residency application and match process. Students learn from faculty and medical physics residents how to assemble an impressive application for residency including an effective resume / CV, selection of references, and compelling personal statement. We provide tips to master the residency interview process and connect students with program alumni who provide further insight during the interview process. Career Mentors, faculty and staff physicists from the Department of Radiation Oncology, meet with students to provide feedback on their residency applications, conduct a practice interview, and offer career advice.
The course also helps you to develop the professional skills and competencies you need as a medical physicist. You learn best practices to work productively on teams; communicate effectively with doctors, patients, and administrators; write scientific abstracts; give oral presentations; and hone leadership skills. We provide advice on how to strategically approach the American Board of Radiology Part I Exam. Our series also features networking events with program alumni, faculty, and staff to further your involvement with our medical physics community.
Clinical Shadowing
The Certificate program offers opportunities for students to gain valuable clinical experience through the shadowing of qualified medical physicists. Shadowing offers a better understanding of the clinical responsibilities of medical physicists, including instrumentation methodology, calibration, treatment planning and quality assurance.
© The Trustees of the University of Pennsylvania | Site best viewed in a supported browser. | Report Accessibility Issues and Get Help | Privacy Policy | Site Design: DART Web Team.