FEATURED NEWS
A Statement on Racial Injustice and Recent Events
June 9, 2020
As our nation is currently dealing with an unprecedented mix of significant health, social and financial issues, we want to reach out to the patients and their loved ones who have been participating in our research program. We will continue to update the website as events unfold.
Racial Injustice
Our nation mourns the tragic and senseless deaths of George Floyd, Breonna Taylor, AhmaudArbery, and the countless other black individuals who have lost their lives to police brutality and institutional racism. It is a vivid reminder of the ongoing racial inequalities and unacceptable indignities that so many of our citizens constantly endure. These events should lead everyone to recognize how much more work our society must do to attain liberty and justice for all. As a nation, we have considerable work to do.
Read our full statement, including remarks on COVID-19, here:
A Statement on Racial Injustice and Recent Events
IOA IN THE NEWS
02/27/20

Diagnosis rates of early-onset dementia and Alzheimer's disease tripled between 2013 and 2017, with Pennsylvania and New…

10/01/19

Two Philadelphia universities have received large grants from the National Institute on Aging (NIA) to study very different…

09/30/19

Researchers at the University of Pennsylvania have received an $18.1 million grant to study connections between Parkinson's…
More News
Monthly E-Newsletter
IOA MEMBERSHIP
IOA Fellows
Join the nearly 300 Institute on Aging Fellows and Associate Fellows and experience robust collaborative opportunities in aging at Penn, for funding opportunity alerts, pilot research grant opportunities, and updates on IOA activities.
Get Involved
FEATURED VIDEO
Learn more about Geroscience at Penn
Video Archive
UPCOMING EVENT
*IMPORTANT UPDATE: Due to the evolving situation surrounding COVID-19, the Institute on Aging (IOA) and Center for Neurodegenerative Disease Research (CNDR) will be postponing our Research Retreat scheduled for May 15, 2020. Please stay tuned for the new date.
The IOA & CNDR Annual Research Retreat 2020
"Bringing the Microscope to Clinic: Crossing the Translational Divide in Neurodegenerative Disease Research"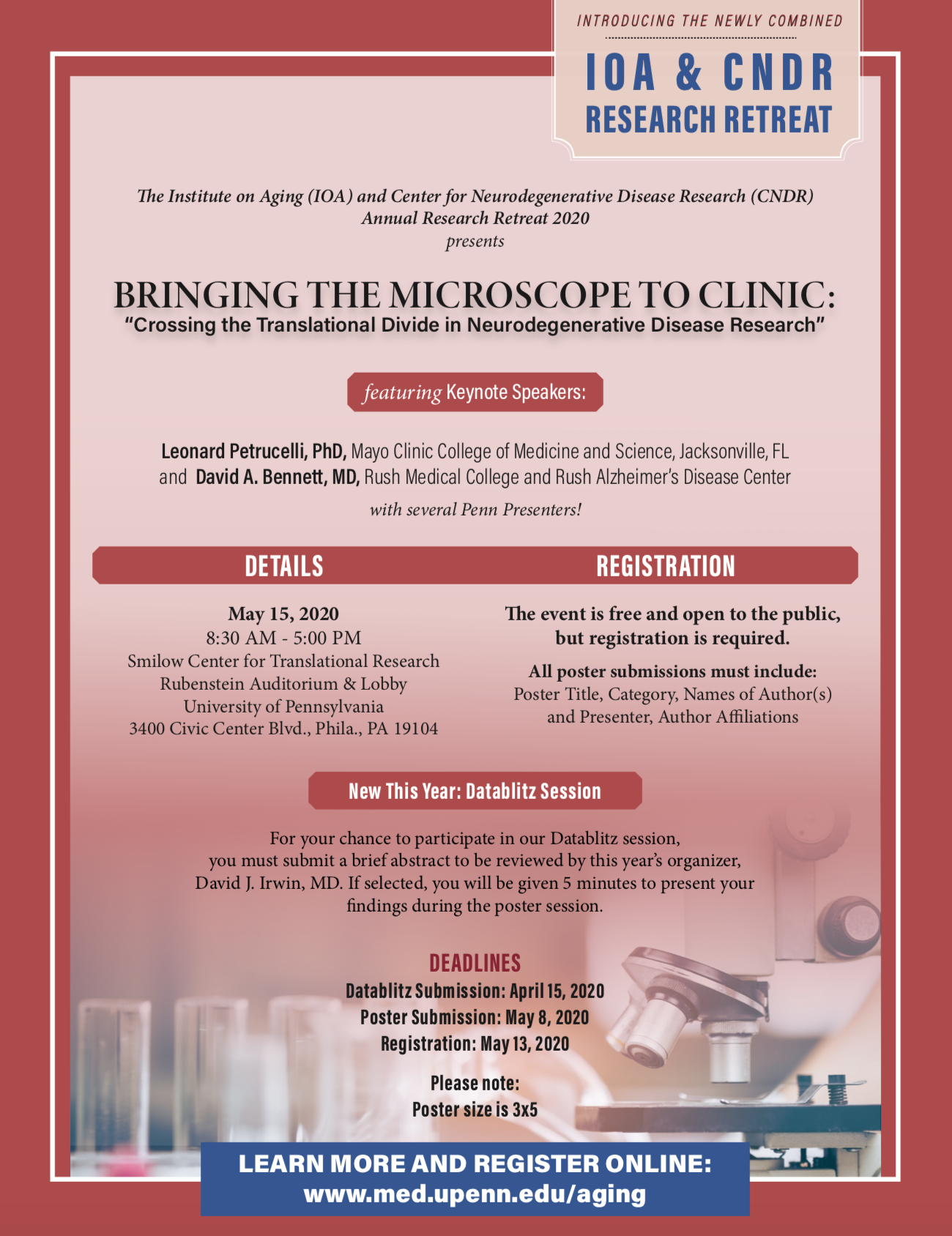 May 15, 2020
8:30 AM — 5:00 PM
Smilow Center,
Rubenstein Auditorium & Lobby

Download the Flyer
Submit a Poster
Learn more
More Events
MAKE A GIFT
DONATE NOW
THE SCIENCE OF AGING NEWSLETTER
QUICK LINKS
© The Trustees of the University of Pennsylvania | Site best viewed in a supported browser. | Report Accessibility Issues and Get Help | Privacy Policy | Site Design: PMACS Web Team.