FEATURED RESEARCH
Rhythm Experience and Africana Culture Trial (REACT!): A culturally salient intervention to promote neurocognitive health, mood, and well-being in older African Americans
The Rhythm Experience and Africana Culture Trial (REACT!) is a multi-site randomized controlled intervention study designed to examine the efficacy of using African Dance as a form of moderate-intensity physical activity to improve cognitive function in older African Americans. African Americans are almost two times more likely than Caucasians to experience cognitive impairment in late adulthood. This increased risk may be attributed to lower level and quality of education, lower socioeconomic status, and higher prevalence of vascular diseases, type 2 diabetes, hypertension, and obesity, all of which are recognized as risk factors for dementia. Fortunately, interventions targeting cardiovascular health (i.e., physical activity) are associated with improved neurocognitive function and a reduced risk for dementia, so African Americans may be particularly suited for interventions targeting cardiovascular health and cognitive function.
Read More
IOA IN THE NEWS
04/29/16

Mark Karasow and his wife, Connie Bastek-Karasow, are part of a giant national experiment to determine whether more precise…

04/21/16

Specialists at the Perelman School of Medicine are conducting research to better understand, prevent, and treat concussions…

04/21/16

Specialists have long suspected that symptoms progressed more slowly in Parkinson's disease patients whose main problem was…
More News
Monthly E-Newsletter
IOA MEMBERSHIP
IOA Fellows
Join the nearly 300 Institute on Aging Fellows and Associate Fellows and experience robust collaborative opportunities in aging at Penn, for funding opportunity alerts, pilot research grant opportunities, and updates on IOA activities.
Get Involved
FEATURED VIDEO
Video Archive
UPCOMING EVENT
Sylvan M. Cohen Annual Retreat 2016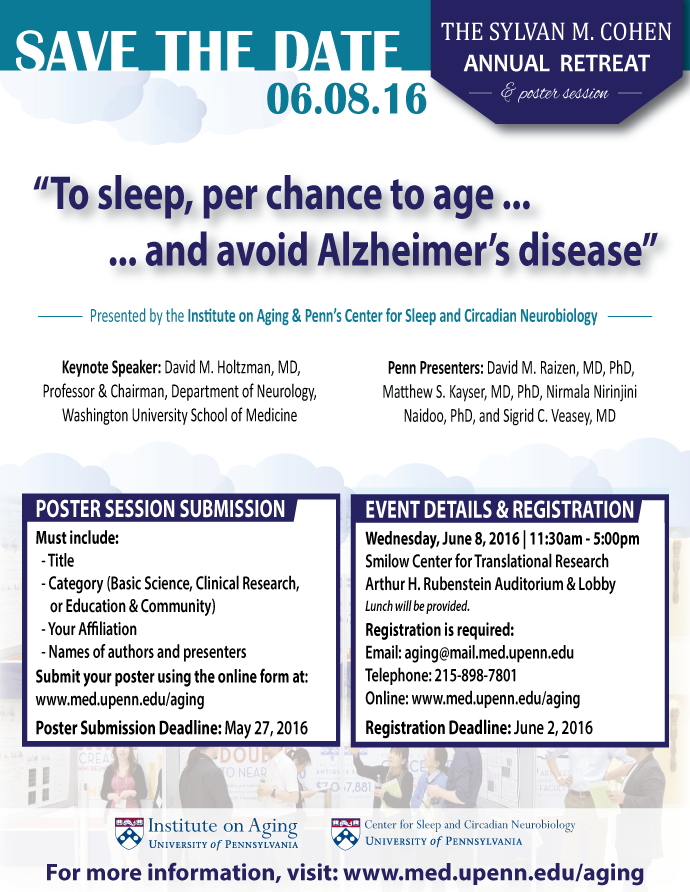 "To Sleep, per chance to age… and avoid Alzheimer's disease"
June 8, 2016
Keynote Speaker: David M. Holtzman, MD
with additional Penn presenters
Smilow Center for Translational Research
Arthur H. Rubenstein Auditorium & Lobby
More information

Poster submission deadline: May 27, 2016
Registration deadline: June 2, 2016
Register now
Submit a Poster
More Events
LINKS
© The Trustees of the University of Pennsylvania | Site best viewed in a supported browser. | Site Design: PMACS Web Team.