LATEST RESEARCH
A high level of mental activity earlier in life may buffer against disease.
Doctors, lawyers and other "high level" professionals may have a built-in survival edge if they're diagnosed with the disease frontotemporal dementia (FTD), according to new research from the Perelman School of Medicine at the University of Pennsylvania.
Read More
IOA IN THE NEWS
More News
Monthly E-Newsletter
IOA MEMBERSHIP
IOA Fellows
Join the nearly 300 Institute on Aging Fellows and Associate Fellows and experience robust collaborative opportunities in aging at Penn, for funding opportunity alerts, pilot research grant opportunities, and updates on IOA activities.
Get Involved
FEATURED VIDEO
Video Archive
UPCOMING EVENT
Sunday, September 20th, 2015 | 8:00am @ Penn Park

Shoemaker Green Entrance | On 33rd between Walnut and South Streets
New this year: Dogs on leashes are welcomed for the Memory Mile Walk only!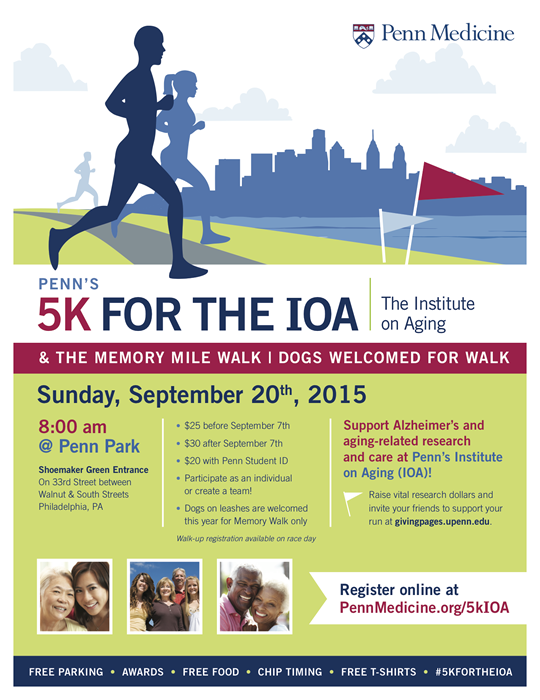 More Events
© The Trustees of the University of Pennsylvania | Site best viewed in a supported browser. | Site Design: PMACS Web Team.