IOA Annual Reports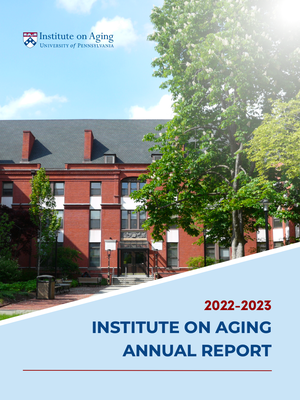 Institute on Aging Annual Report | 2022-2023
The Institute on Aging (IOA) is pleased to release it's first Annual Report -- a glance at the successes and progress of the IOA from 2022-2023 under the leadership of Drs. Lee and Wolk.
This report highlights:
2022 at a glance
IOA Organizational Restructure
IOA Strategic Plan for ADRD
Grants, gifts, and fundraising
and more!
View the full 2022-2023 IOA Annual Report here.
"While our titles of Co-Directors of the IOA are still fairly new, we feel that we have already started to make headway in enhancing the success and reputation of the IOA as a leader in the field of aging-related research and education. A few accomplishments we are especially proud of, which are highlighted in more detail in this report, are the revitalized IOA divisional structure and Members Program, supporting several trainees through the inaugural IOA Research Scholars Program and the PennPREP Scholars program, announcing the IOA's five-year Strategic Plan for Alzheimer's Disease and Related Dementias (ADRD), collaborating with the Department of Pathology and Laboratory Medicine on fundraising efforts for a portrait honoring Virginia M.-Y. Lee, PhD and John Q. Trojanowski, MD, PhD, and serving on the committee to develop the Pennsylvania Master Plan on Aging and Disabilities."

- David A. Wolk, MD Edward B. Lee, MD, PhD