IOA Events
Special Event: AAIC Neuroscience Next 2023
AAIC Neuroscience Next 2023: Research Retrospective [LIVE] with Virginia M.-Y. Lee, PhD
April 18, 2023
Arthur H. Rubenstein Auditorium, Smilow Center for Translational Research
Join Virginia Lee as she looks back on her career of groundbreaking scientific advancements, with Isabel Castanho.
Broadcast live from Philadelphia.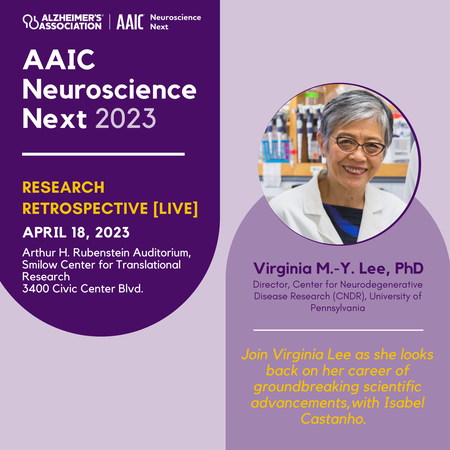 11:00 - 11:45am - Research Retrospective: Virginia M.-Y. Lee, PhD, discusses the key scientific advances of her work and shares stories from her career, with Isabel Castanho.
11:45am - 12:30pm - Results: Journal Club: Christian Limberger leads a discussion of a breaking article with the lead and senior authors of the paper. Broadcast live from Porto Alegre, Brazil.
12:30 - 1:30pm - Faculty/Student Meet & Greet: Meet experts in the field of neuroscience from Penn and other local institutions to network, ask questions, and learn about potential training and funding opportunities.
Register to attend in person here.
---
About AAIC Neuroscience Next
April 17- 20, 2023 | ONLINE
A global, no-cost virtual conference that showcases the work of students, postdoctoral researchers and early career research professionals in cognitive, computational, behavioral, and other areas of neuroscience research. Learn more at: www.alz.org/neurosciencenext
Upcoming IOA Events

IOA Visiting Scholar Series Lecture
"Functional Genomics of Neuroimmune Interactions in Alzheimer's Disease and Aging"
Michael Haney, PhD
Stanford University
March 27, 2023 | 11:00am - 12:00pm
Arthur H. Rubenstein Auditorium, Smilow Center for Translational Research
Register here.
IOA Visiting Scholar Series Lecture
"Brain aging across space and time: Using network science to chart disparities in brain health and assess Alzheimer's Disease risk and resilience"
Gagan Wig, PhD
Associate Professor, Center for Vital Longevity and School of Behavioral and Brain Sciences, University of Texas at Dallas
Department of Psychiatry, University of Texas Southwestern Medical Center
April 14, 2023 | 12:00 - 1:00pm
Austrian Auditorium, Clinical Research Building (CRB), 415 Curie Boulevard
Register here.

Vincent J. Cristofalo Annual Lectureship
Andrew B. Singleton, PhD
Center for Alzheimer's and Related Dementias (CARD)
May 22, 2023 | 2:30-3:45pm (Lectureship) | 3:45-4:45pm (Reception)
Jordan Medical Education Center
3400 Civic Center Blvd., 5th floor

IOA Visiting Scholar Series Lecture
Amy Kind, MD, PhD
Department of Medicine, University of Wisconsin-Madison
June 22, 2023 | 12:00 - 1:00pm
BRB/Gaulton Auditorium