Penn Sleep Annual Research Retreat
For over a decade, the CSCN has hosted an annual research retreat with the aim of promoting sleep medicine and circadian neurobiology research. Since 2015, the Penn Chronobiology Program has partnered with the CSCN to host a joint research retreat.
2018 Retreat — Save the Date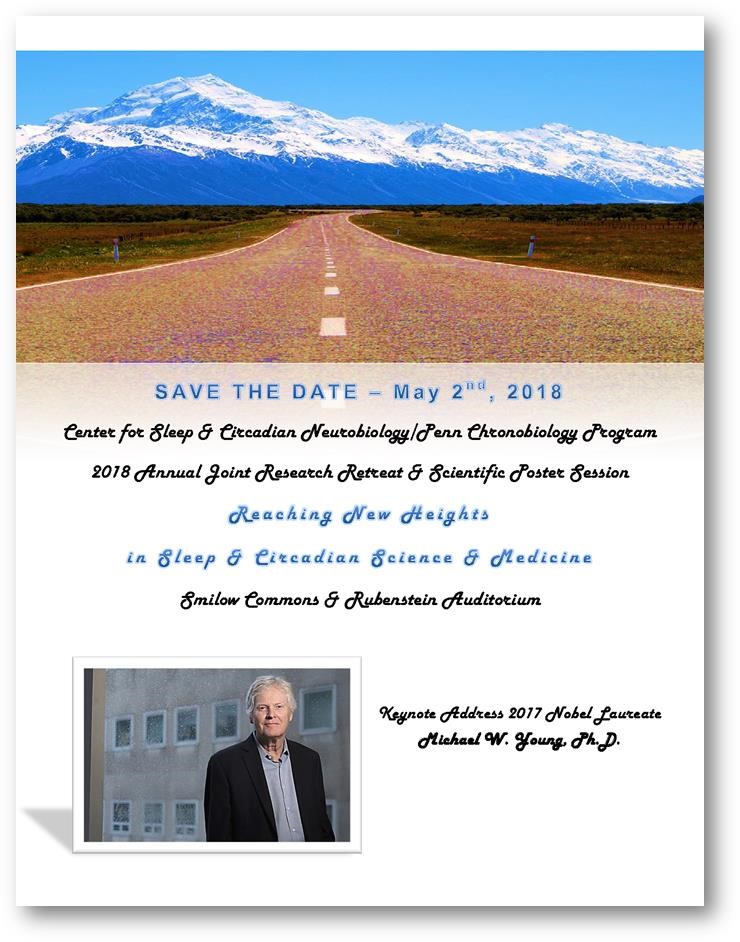 ---
To celebrate the 25th anniversary of the CSCN, the 2016 retreat featured alumni talks on the Functions of Sleep, Circuits, OSA & Sleep Fragmentation, Genetics of Sleep, and Sleep Loss. There were also special remarks by Dean Larry Jameson, MD, PhD.
Functions of Sleep
Dr. Matthew Kayser Sleep Deprivation Suppresses Aggression in Drosophila
Dr. Sara Aton Sleep Dependent Memory Consolidation: Oscillation and Ensembles
Dr. David Raizen Sleep Functions: Lessons from a Round Worm
Circuits
Dr. Daniel Cavanaugh The Drosophila Circadian Clock Gates Sleep Timing through Interactions with Sleep-Promoting Neurons
Dr. Mark Wu Sleep Drive is Encoded by Neural Plastic Changes in a Dedicated Circuit
OSA and Sleep Fragmentation
Dr. Richard Schwab Important Insights into Sleep Apnea from Upper Airway Imaging
Dr. Sigrid Veasey A Sleep Loss Locus for Alzheimer's Disease
Dr. Ulysses Magalang Sleep Apnea and Metabolic Dysfunction
Dr. Richard Horner Mechanisms of REM Sleep
Genetics of Sleep
Dr. Phil Gehrman Gene and Biomarkers of Insomnia
Dr. Susan Harbison Sleep in Drosophila Melanogaster: Insights Gained from a Systems Genetics Approach
Dr. Kyunghee Koh Sexually Dimorphic Regulation of Sleep in Drosophila
Sleep Loss
Dr. Mathias Basner Identifying and Mitigating Sleep Restriction on Earth and in Space
Dr. Hans Van Dongen Sleep Deprivation, Feedback Blunting and Dopaminergic Gene Polymorphisms
Dr. Janet Mullington Effects of Repeated Sleep Restriction Challenge with Little Intervening Recovery Opportunity, on Autonomic and Inflammatory Parameters
Dr. William Joiner Molecular and Neuroanatomical Control of Sleep Drive in Drosophila
Close
---
2015 Retreat Sessions & Abstracts
KEYNOTE SPEAKER
William J. Schwartz, MD, Professor of Medicine, University of Massachusetts Medical School, Department of Neurology
SLEEP DISORDERS AND SLEEP LOSS
SLEEP, ENERGY AND METABOLISM
BASIC SLEEP AND CIRCADIAN SCIENCE
Close
---
2014 Retreat Sessions & Abstracts
KEYNOTE SPEAKER
Michael Rosbash, PhD, Peter Gruber Endowed Chair in Neuroscience, Howard Hughes Medical Institute Investigator
SLEEP, HEALTH, AND ENVIRONMENTAL INFLUENCES
ADVANCES IN SLEEP DISORDERS AND INTERVENTION RESEARCH
CIRCADIAN GENETICS
Close
---
2013 Retreat Sessions & Abstracts
KEYNOTE SPEAKER
Joseph Takahashi, PhD, Loyd B. Sands Distinguished Chair in Neuroscience,University of Texas Southwestern
SLEEP & NEURODEGENERATION
OBSTRUCTIVE SLEEP APNEA, OBESITY & METABOLISM
NEUROANATOMY & FUNCTIONAL CONNECTIONS
CIRCADIAN/HOMEOSTATIC SLEEP
Close
---
KEYNOTE SPEAKER
Dr. Juliane Winkelmann – Max Planck Institute for Psychiatry
Close
---
KEYNOTE SPEAKER
H. Craig Heller
Close
---
KEYNOTE SPEAKER
Charles A. Czeisler, M.D.,Ph.D., Frank Baldino, Jr., Ph.D. Professor of Sleep Medicine, Harvard University
Close
---
---
---