Spotlight Archive
Top 10 in the Nation...Again!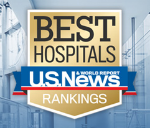 The Department of Psychiatry ranked 9th nationally in the 2014-2015 US News & World Report's Annual Ranking of Best Hospitals for the quality of its psychiatry clinical services. The Hospital of the University of Pennsylvania (HUP) remains the top ranked hospital for psychiatric care in the region.
Overall, HUP is ranked the #1 hospital in the city of Philadelphia, #2 hospital for the state of Pennsylvania and #9 hospital nationally, classifying UPenn as the top 3% of hospitals in the country. 2014-15 continues HUP's presence in the survey's "Honor Roll," and marks the seventh consecutive year that the hospital ranked in the top twenty nationwide. Click here to be brought to UPenn's page in the US News Honor Roll.
---
Penn Awarded BIRCWH Scholars Program by NIH and Office of Research on Women's Health
Neill Epperson, M.D. (Founding Director, Perelman School of Medicine) and Tracy Bale, Ph.D. (Research Director, School of Veterinary Medicine) have been awarded a large mentored-career development grant to promote women's health and sex-differences research. The Building Interdisciplinary Research Careers in Women's Health (BIRCWH) Scholars Program is funded by the National Institutes of Health, Office of Research on Women's Health (ORWH). The BIRCWH Scholars Program has supported more than 542 junior faculty at 39 institutions across the nation since the program's inception in 2000. Drs. Epperson and Bale attribute their success, to the outstanding faculty mentors, breadth of interdisciplinary research, and institutional support for pursing sex and gender differences research here at Penn.
The Penn BIRCWH Scholars program will provide salary, research support and mentorship for two junior faculty scholars with a commitment to address sex and/or gender issues in their area of research. Scholars will be chosen through a competitive, internal grant review process this fall, with funding to begin in January 2016. With support from the Office of the Vice Provost for Research and the Perelman School of Medicine Office of Inclusion and Diversity, the Penn BIRCWH Program will establish a cross-school initiative to promote inter- and trans-disciplinary research that addresses sex and gender differences in human health.
---
PCWBW Selected as site for Postpartum Depression Clinical Trial

For general information about the research study, please visit the Sage study site here.
Back to Top