Welcome!
The Huntington's Disease Center at Penn
The University of Pennsylvania Huntington's Disease Center is recognized as a Center of Excellence by the Huntington's Disease Society of America. Located in the heart of Philadelphia, it is the only Center of Excellence in the tristate area. We provide individualized, multi-disciplinary, family-centered care for families living with HD.
Directed by Aaron Lasker, MD, the staff includes psychiatrists, genetic counselors, social workers, therapists, and a full-time coordinator dedicated to treating and assisting patients with Huntington's disease as well as their families. Our team engages in ongoing collaborative research with several organizations, clinics, and laboratories.
Click HERE to learn more about how you can help our center fight Huntington's disease.
---
Brief History of the Center
The HD Center is housed within the Parkinson's Disease and Movement Disorders Center (PDMDC). The PDMDC was founded at the late, great Graduate Hospital in 1982 by Drs. Howard Hurtig and Matthew Stern and Nurse Gwyn Vernon as a center to provide comprehensive care and education to patients and families, and to conduct basic and clinical research in collaboration with basic scientists at the University of Pennsylvania School of Medicine (now the Perelman SOM).
After 15 years of steady and expanded growth of its fundamental mission, the PDMDC moved in 1997 to the Penn Neurological Institute at Pennsylvania Hospital, where patient services and program development accelerated to achieve its current status as one of the premier facilities of its kind in the US. During those initial decades, patients affected by HD received excellent care at the PDMDC, and Drs. Hurtig and Stern were active members of the growing HD clinical and academic community...
Special Announcements
THE ANNUAL PHILLY CURE HD LUAU 2022 IS HERE!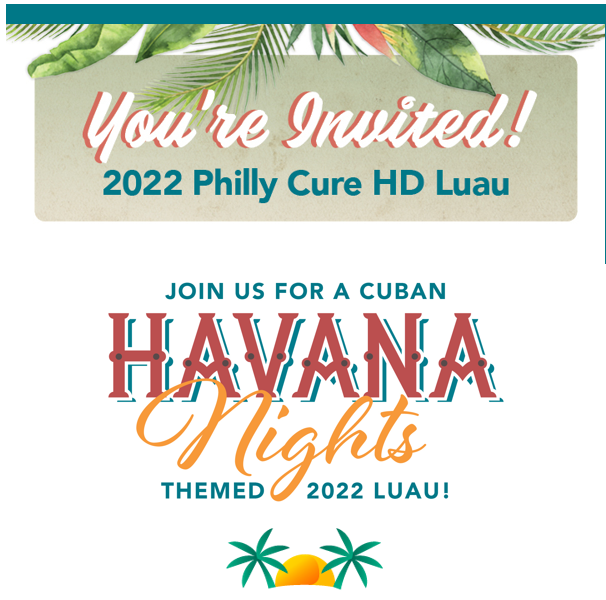 PURCHASE TICKETS: CLICK HERE! More information in "Events" section below.
IMPORTANT TRANSITION AT THE HD CENTER
We are pleased to welcome Aaron Lasker, MD as the new Medical Director of the Huntington's Disease HDSA Center of Excellence at Pennsylvania Hospital. Dr. Pedro Gonzalez-Alegre, prior Director of the HD Center, has transitioned to a new career path outside of Penn Medicine. Dr. Gonzalez-Alegre has served our HD patients and families well and his presence will surely be missed. Dr. Aaron Lasker joined the HD Center team officially in July 2021 and has been seeing HD patients in clinic actively since then, which has helped make for a smooth transition for our patients.
NEWS
Safely Providing Care for our Families Through the COVID-19 Pandemic

The HDSA Center of Excellence at Pennsylvania Hospital is open and seeing both new and returning patients!

HD and the COVID-19 Vaccine

***The FDA authorized COVID-19 vaccines for use in children ages six months and older, and boosters for everyone five years and older, if eligible.***

Everyone 18 and older has been eligible since Nov. 19, 2021 to receive a booster, six months after getting a second shot of the Pfizer or Moderna vaccine, or two months after a Johnson & Johnson shot.

COVID vaccines and HD, in a nutshell: If you are offered a vaccine by your health care provider, or are now eligible for boosters, we recommend that you receive the vaccine and booster(s) as offered unless there is a reason you should avoid that vaccine, such as an allergy to an ingredient (click here for more information). Inform your vaccination provider about all your allergies and health conditions.

Our HD Center Makes Headlines!

Wednesday, June 24, 2020

Our medical students' experiences with the HD Center were featured in the Philadelphia Inquirer!
UPCOMING EVENTS
2022 Philly Cure HD Luau

Friday, June 24, 2022

7:00 pm - 11:00 pm

You're invited! 2022 Philly Cure HD Luau: Cuban Havana Nights!

Chef Luis will be cooking up mouthwatering, authentic menu items and craft cocktails.

Join the Cancelmo family and the HD Community for our largest fundraiser of the year. Philly Cure HD is grateful for your ongoing support and hope to see you on June 24th.

We are grateful for Stevie & Chris Thompson, Jesse & Christine Cancelmo, Glenn & Susan Blumenthal and Hank Fila for their generous sponsorships. Please consider joining us or becoming a sponsor

FRIDAY, JUNE 24, 2022 • 7:00-11:00pm

Clydesdale's Corner, 23 Dorset Road, Devon, PA 19333

To PURCHASE TICKETS: CLICK HERE!

On-Line Virtual Video Support Group/Webinar

4:00 pm

Third Wednesday of every month

Upcoming group July 20th, 2022

4:00-5:00 pm

Facilitated by Lauren Zelouf, MSW, LCDSW.