Chair's Welcome
Maria A. Oquendo, M.D., Ph.D. | Chair, Department of Psychiatry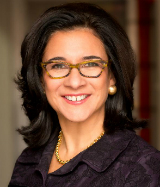 Dear Psychiatry Applicants,
Welcome to Penn Psychiatry! As the Chair, I am so pleased you are looking at the Penn Psychiatry Residency. We have an extraordinary psychiatry residency as well as wonderful medical student and fellowship programs.
I also want to congratulate you. You have made a really smart choice. I think Psychiatry is one of the most exciting fields in medicine, and not just because we get to talk to our patients and really get to know them. Importantly, there is an explosion of new information being generated about the brain. In fact, 5 to 10 years from now, you will have deep knowledge about the brain and will probably be able to cure, if not prevent, some of the conditions that we treat. Because of that, residency training in psychiatry will be a really fantastic experience for you. You will be at the crest of that wave as we make major breakthroughs in treatments for psychiatric disorders to help our patients.
I do have a vision for this fabulous department, which I am looking forward to building out even more. You should know that this department is one of the top ranked departments in the entire country, and we have specialists in just about everything. We have specialists who are not only masterful clinicians, but also specialists in a wide variety of research areas. In fact, no matter what you want to study, chances are that you can learn how to investigate it here at Penn. Further, we have an extremely collaborative environment, where you can work with the people from the world class Wharton Business School or from the outstanding Veterinary School. This opportunity to forge relationships with faculty in other schools means that you really can study whatever it is that you like.
Another fantastic thing about Penn is that there is a flourishing Center for Global Health, whose director is enthusiastic about mental health. Together, we are already developing plans to build out the global mental health program in partnership with implementation science with top faculty and lots of innovative ideas. Critically, some global mental health issues and techniques are not only relevant abroad but also, right here in Philadelphia, as is the case in most urban settings. You don't have to go that far to find really problematic issues around access to mental health care and through our global mental health initiatives we will be engaged in seeking solutions to those.
I am also looking forward to developing a molecular psychiatry track in terms of both research and ultimately, the clinical use of molecular assessment. Indeed, one of the first recruits will be a molecular imaging psychiatrist, to conduct cutting edge research to visualize the brain and the receptors that we target with our medications. I am also interested in developing a research track around the microbiome and its effects on behavior. Delineating novel microbiome-related psychopathological pathways will help us develop new interventions. In collaboration with molecular biology, the veterinary school, and gastroenterology, we can elucidate the role of this newly re-discovered influence on the brain, which Hippocrates actually identified millennia ago.
These are just a few highlights about what I am planning for the department. I wish you all the best on the interview trail. I know it is stressful and that you have a big decision to make.
With warmest regards,
Maria A. Oquendo, M.D., Ph.D.
Back to Top