overview
philosophy
Our goal is to do much more than provide students with an opportunity to earn an MD and a PhD. We want to give students all the tools and experiences they will need to be successful physician-investigators. Integration of medical and graduate education is something we emphasize from the beginning of the program. At any given time a student will spend most of his or her time in medical school or graduate school, but at all times there are courses or other experiences organized by the program that emphasize the integration of the two parts of the training.
program features
Students typically start the program with the first two years of medical school, but take graduate courses and do lab rotations at the same time. Two of the courses that they take are Topics in Molecular Medicine and Case Studies in Translational Research which are run by the combined degree program for MD-PhD students. Beginning in the third year, our students focus on graduate studies, but they get to experience the life of a physician-scientist through the Clinical Connections program, which is also run by the combined degree program. Throughout this time students are expected to be regular participants in our Monthly Events series.
description of typical curriculum
Below is an image that shows the curriculum of a typical student enrolled in one of the Biomedical Graduate Studies programs.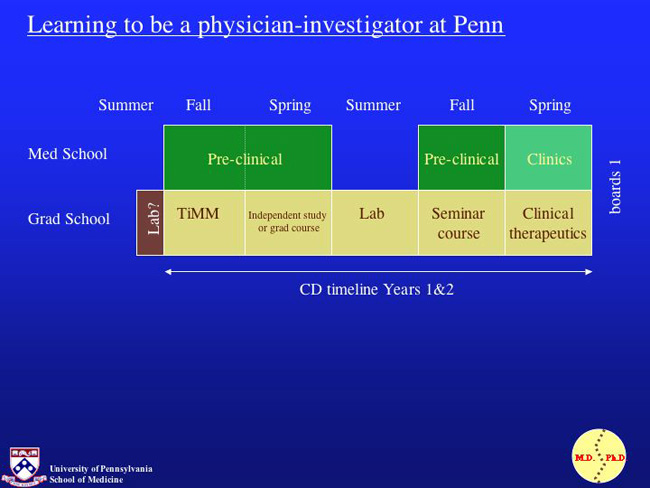 years 1 and 2
June-Aug year 1
Some students matriculate in June for an early lab rotation.
Fall and spring year 1
Medical school courses and also one graduate school course per term (Topics in Molecular Medicine in the fall and another course or directed reading in the spring).
Summer between year 1 and 2
Lab rotation.
Fall year 2
Medical school course work and Case Studies in Translational Research or another graduate seminar or independent study.
Spring and summer of year 2
Six months of clinical course work, then boards part 1 followed by jump start to next research rotation.
year 3
Fall and spring
Students take full time graduate school course work (usually 3 classes per term), and two more lab rotations. (MD-PhD students receive substantial transfer credit from the graduate groups which allows them to complete course requirements in one year). Thesis mentor is selected.
Summer
Preliminary exam and progression to full time thesis work.
years 4 through 6
Throughout years 4 through 6
Students are working on their thesis research, and participating in Clinical Connections.
years 7 and 8
Year 7
Students defend their dissertation, typically sometime in the fall semester. After that they take a clinical warm up course, and then resume clinical clerkships and electives.
Year 8
More clinical course work, boards 2, applying and interviewing for residency (usually), and sometimes conducting additional research.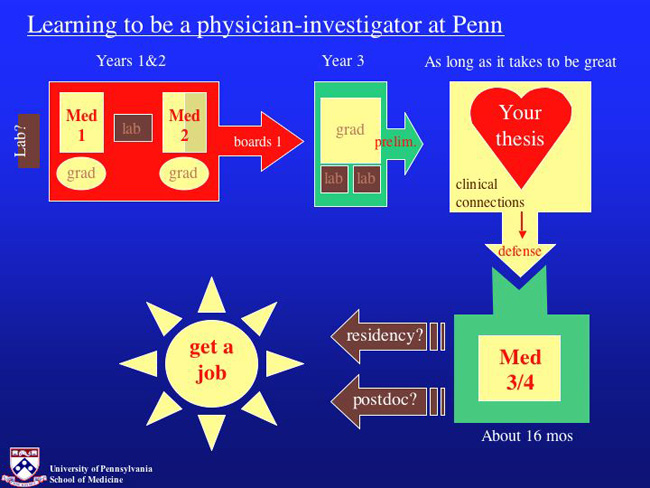 flexibility
While the above schedule is optimal for most biomedical science PhD students, there are some for whom other alternatives would be better. The program is flexible and works with students individually to develop the most appropriate curriculum plan.
graduate group variations
Bioengineering students typically take a part time graduate school course load in years 3 and 4, while working in their thesis lab.
Wharton students typically take a greater number of graduate school courses and sometimes shift between dissertation research and clinical courses.
Arts and Sciences students typically take a greater number of graduate school courses.
more curricula details are available at:
medical school:
graduate groups: