Smith/Malhotra Laboratory
Ongoing Research Projects
Pathogenesis and Treatment of Spine Disease in Mucopolysaccharidosis Disorders
The mucopolysaccharidoses (MPS) are genetic, lysosomal storage disorders that affect children, and which are characterized by deficient activity of enzymes that degrade glycosaminoglycans. Skeletal disease manifestations are severe and include dysplasia of the vertebrae, acetabula and long bones leading to spinal and joint deformities that significantly impact patient quality of life and contribute to increased mortality. The overall goals of our research are to understand the molecular mechanisms underlying spine and bone disease in MPS, and develop new therapeutic strategies. Our lab uses naturally occurring large animal homologues of MPS that closely mimic the progression of skeletal disease observed in human patients. Key components of this project include:
Elucidating the molecular mechanisms of skeletal disease in MPS by establishing the links between glycosaminoglycan accumulation, altered growth factor signaling, and cellular dysfunction
Investigating the roles of abnormal vascularization and matrix remodeling in failed endochondral bone formation in MPS
Establishing the efficacy of in utero therapy utilizing umbilical cord or bone marrow mesenchymal stem cells for correcting the skeletal and neurological manifestations of MPS
Identifying novel therapeutic strategies to specifically target the skeletal manifestations of MPS, including stimulating wnt/β-catenin signaling to enhance chondrocyte maturation and osteoblast differentiation.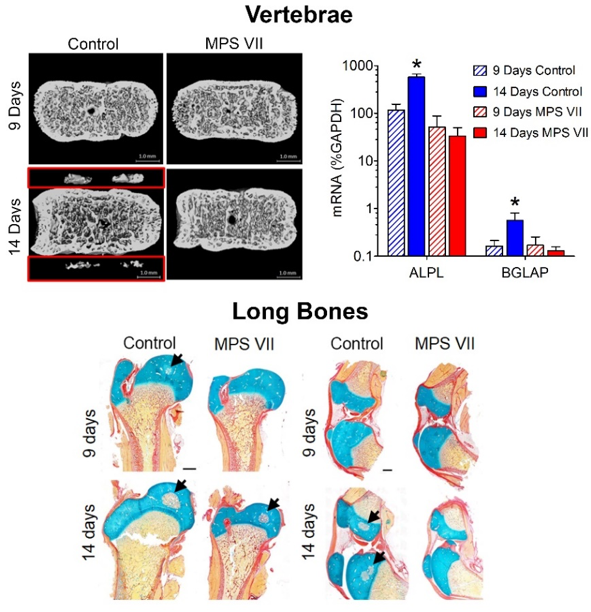 Failed secondary ossification in MPS vertebrae and long bones

Lysosomal storage in cartilage and bone cells from MPS VII vertebrae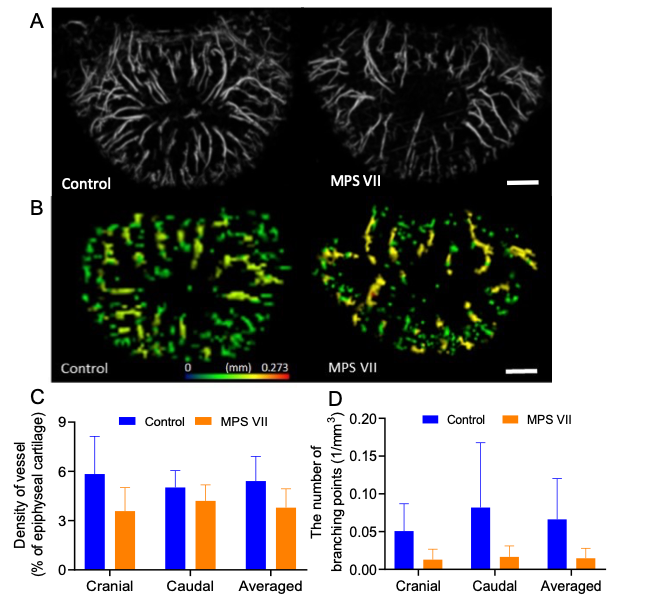 Impaired vascularization in MPS vertebrae
Publications:
Peck SH, Tobias JW, Shore EM, Malhotra NR, Haskins ME, Casal ML, Smith LJ. (2019) Molecular Profiling of Failed Endochondral Ossification in Mucopolysaccharidosis VII. Bone. 128:115042.
Tanpaiboon P, Smith LJ, Casal ML, Chang Y-C, Nampoothiri S, Paiyarom A, Kuptanon C, Trachoo O, Ketudat Cairns JR, Kantaputra PN. (2019) Oral Manifestations of Patients and Dogs with Mucopolysaccharidosis Type VII. American Journal of Medical Genetics Part A. 179:486-493.
Peck SH, O'Donnell PJ, Kang J, Shore EM, Pacifici M, Dodge GR, Haskins ME, Malhotra NR, Smith LJ. (2015) Delayed Hypertrophic Differentiation of Epiphyseal Chondrocytes Contributes to Failed Bone Formation in Mucopolysaccharidosis VII Dogs. Molecular Genetics and Metabolism. 116:195-203.
Peck SH, Casal ML, Malhotra NR, Ficicioglu C, Smith LJ. (2016) Pathogenesis and Treatment of Spine Disease in the Mucopolysaccharidoses. Molecular Genetics and Metabolism. 118:232-43. Review.
Chiaro JA, O'Donnell P, Shore EM, Ponder KP, Malhotra NR, Haskins ME, Smith LJ. (2014) Effects of Neonatal Enzyme Replacement Therapy and Simvastatin Treatment Cervical Spine Disease in Mucopolysaccharidosis I Dogs. Journal of Bone and Mineral Research. 29(12):2610-7.
Chiaro JA, Baron MA, del Alcazar CM, O'Donnell P, Shore EM, Elliott DM, Ponder KP, Haskins ME, Smith LJ. (2013) Postnatal Progression of Bone Disease in the Cervical Spines of Mucopolysaccharidosis I Dogs. Bone. 55:78-83.
Smith LJ, Martin JT, O'Donnell P, Wang P, Elliott DM, Haskins ME, Ponder KP (2012). Effect of neonatal gene therapy on lumbar spine disease in mucopolysaccharidosis VII dogs. Molecular Genetics and Metabolism.107:145-152.
Smith LJ, Baldo G, Wu S, Whyte MP, Elliott DM, Haskins ME, Ponder KP (2012). Pathogenesis of lumbar spine disease in mucopolysaccharidosis VII. Molecular Genetics and Metabolism. 107:153-160.
Smith LJ, Martin JT, Szczesny SE, Ponder KP, Haskins ME, Elliott DM (2010) Altered lumbar spine structure, biochemistry, and biomechanical properties in a canine model of mucopolysaccharidosis type VII. Journal of Orthopaedic Research, 28:616-622.
Funding Sources:
National Institutes of Health, National MPS Society, Sharpe Foundation, Lisa Dean Moseley Foundation, University of Pennsylvania
---
Updated on 15 Dec 2019