Personnel
Abby Cember, Ph.D.
Abby Cember, Ph.D.
Research Specialist, Department of Radiology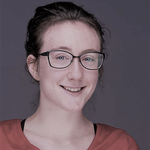 Contact Information
Tel:(215) 898-9357
Fax: (215) 573-2113
Email: cember@pennmedicine.upenn.edu
Education
Ph.D. 2021, University of Pennsylvania, Biochemistry and Molecular Biophysics
Publications
Cember ATJ, Hariharan H, Kumar D, Nanga RPR, Reddy R. Improved method for post‐processing correction of B1 inhomogeneity in glutamate‐weighted CEST images of the human brain. NMR Biomed. (2021) doi:10.1002/nbm.4503
Please see https://scholar.google.com/citations?user=erpQwQcAAAAJ&hl=en&oi=ao for a full list of my scientific publications to date.