Announcements
Appointment of Dorothy L. Leung as Associate Dean of Administration
Appointment of Dorothy L. Leung as Associate Dean of Administration
07/01/21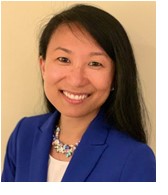 I am delighted to announce that Dorothy L. Leung has been appointed Associate Dean of Administration in the Perelman School of Medicine, a promotion that reflects her outstanding performance as my Chief of Staff since 2015, her extensive and expanding portfolio of responsibilities, and her impactful contributions to PSOM.
Ms. Leung brings unsurpassed dedication to the mission of supporting and building our research community. Those of you who have worked with her appreciate her exceptional organizational and problem-solving skills and team-oriented focus.
Over the past very trying year, Dorothy's thoughtful leadership and resourcefulness have been and continue to be outstanding. In meeting the challenges of the pandemic, she has taken on new and complex responsibilities while serving in a very demanding role as the Chief of Staff for the Office of the Executive Vice Dean and Chief Scientific Officer. She leads with compassion and empathy, always thinking about how decisions might impact an individual or a program, and strives to strengthen our spirit of community.
To highlight her collaborative orientation and cross-disciplinary strengths, Dorothy has been recognized on three separate Models of Excellence teams, the highest staff honor bestowed by the University. Two of the awards came this year for her contributions to the PennOpen Pass team and the PSOM Ready Mission Continuity and Pandemic Response team.
Dorothy graduated with her bachelor's and master's degrees from Stanford University and began her career as a management consultant for Deloitte Consulting in Los Angeles, focusing on strategy and operations. She joined PSOM in 2008 as an Associate Director in Research Planning and Management and was promoted to Director in 2010, before being appointed EVD/CSO Chief of Staff in 2015.
In her new role, Dorothy will develop ways to increase efficiency and integration further across PSOM and the health system, as well as continue her myriad responsibilities as Chief of Staff, which include strategic planning, space management, and communications initiatives. In addition, she will support me in my role as UPHS Senior Vice President.
Please join me in congratulating Dorothy on this well-deserved promotion and wishing her continued success in her new role as Associate Dean of Administration.
Jon Epstein, MD
EVD/CSO