Additional Opportunities
Students enrolled in the University of Pennsylvania Genetic Counseling Program are also eligible to apply for additional scholarships and fellowships available exclusively to students in the program, including:
LEND - The Leadership Education in Neurodevelopmental Disabilities Fellowship at the Children's Hospital of Philadelphia
The LEND program at CHOP is funded by a grant from the Maternal Child Health Bureau of the U.S. Department of Health and Human Services. It has a mission to
"support the development of exemplary expertise, skills, and competence in the care of children with neurodevelopmental and related disorders, including children from medically under-served populations; and to instill the qualities that promote interpersonal leadership in the service of improving the quality of life and outcomes for these children and their families." (LEND Trainee Handbook)
Applicants for the LEND fellowship have a particular interest in pediatrics, neurodevelopmental disability, advocacy, and underserved populations. LEND provides fellows with extra training in these areas and the opportunity to work with interdisciplinary teams and directly with community programs designed to improve care for these populations.
Fellows are chosen from fifteen different fields:
• Audiology • Dentistry • Developmental/ behavioral pediatrics • Family leadership • Genetic counseling • Healthcare administration • Nursing • Nutrition • Occupational therapy • Physical therapy • Psychology • Self advocacy • Social work • Special education • Speech-language pathology
Two UPenn genetic counseling students are selected as LEND fellows each year following an application and interview process in the spring of their first year. Beginning in July, the LEND fellows spend one day a week (typically Monday) at CHOP throughout their second year of training in the MSGC program. The Genetic Counseling LEND fellows receive a substantial stipend, but the amount may vary year-to-year depending on funding.
For more details about the LEND program at CHOP, visit https://www.chop.edu/centers-programs/leadership-education-neurodevelopmental-disabilities-fellowship-program/fellowship
---
The Marie Barr Genetic Counseling Research Award – CdLs and Related Diagnoses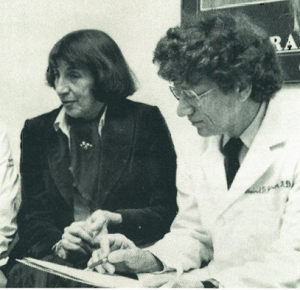 This is a competitive award given each year to a student with strong academic and counseling credentials who is interested in completing a thesis project on Cornelia de Lange syndrome or other rare developmental diagnoses. The award honors the late Marie Barr, one of the first genetic counselors in the Philadelphia area. It seeks to "promote the development of expertise in genetic counseling issues related to rare developmental diagnoses." The award was established in 2014 by Marie's husband, Laird Jackson, MD, and Ian Krantz, MD, director of the Center for Cornelia de Lange Syndrome and Related Diagnoses at the Children's Hospital of Philadelphia. It includes a stipend of $2,000 to fund the student's thesis project.
The application is typically due in late February, and the recipient is notified by the end of March. The award is presented annually at Thesis Day, and the recipient conducts their research and completes their thesis during their second year in the program.
Learn more about CHOP's Center for Cornelia de Lange Syndrome and Related Diagnoses
---
Other assistantships, fellowships, and scholarships
Many students work in part-time positions at Penn and CHOP as Genetic Counseling Assistants or in research or administrative roles.
Students are also able to receive outside financial support from other organizations such as genetic testing laboratories. This type of financial support is handled directly and exclusively by the organizations which offer it.