UPenn Resources for Current Students
Student Handbook
Each incoming class receives a student handbook containing information, schedules, policies and procedures for both the MSGC program and the University. The handbook serves as a contract between the program and the students.
Click here to see the student handbook for the Class of 2024.
Click here to see the student handbook for the Class of 2025.
The Mentorship Program
The Penn MSGC Program values mentorship and assigns all incoming students with two mentors: a student mentor (Penn Pal) from the second-year class and a practicing genetic counselor from the Penn and CHOP genetics community. These mentor relationships are in addition to regular mentoring from the program leadership, clinical supervisors, and thesis advisors.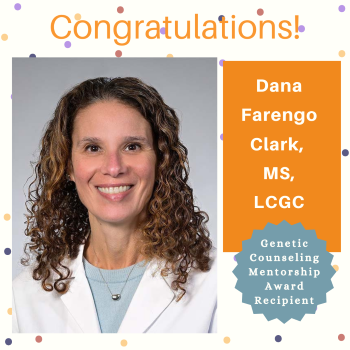 Students work with the same dedicated genetic counselor mentor throughout their time in the MSGC program. Through regular meetings, students learn about the Penn and CHOP genetic counseling community, career development, scholarly activities, and genetic counseling practice.
Second-year students nominate individuals for our Outstanding Mentorship Award, and the award recipient is announced at the annual Supervisors Workshop. Dana Farengo Clark, MS, LCGC, received the 2022 Mentorship Award. As a Senior Genetic Counselor at Penn Medicine, Dana cares for patients with the Basser Center for BRCA and the Gastrointestinal Cancer Genetics Program. She is also a co-director of our Cancer Genetics course.
---
Graduate Student Center
3615 Locust Walk
Philadelphia PA 19104
215-746-6868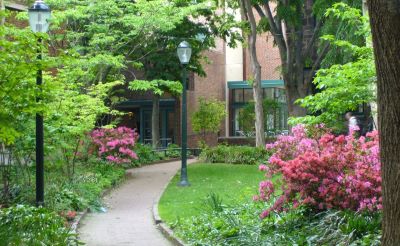 Email: gradcenter@upenn.edu
Website: http://www.upenn.edu/gsc/
Connect for:
Free coffee and tea all day every day for graduate students in the Welfer Common Room. BYOM (bring your own mug)
The Welfer Common Room, located on the main floor, is the Grad Center's primary space for hanging out. Whether you come for relaxation or work, its comfortable couches, large tables, Andy Wu fireplace, coffee service, and signature French doors overlooking Locust Walk make it the perfect place to connect with Penn's graduate community.
The Gnome's Café, in back of the Welfer Common Room, where you can purchase other yummy items, such as sushi, salads, sandwiches, snacks and drinks
A massive events calendar and a weekly newsletter highlighting events and resources. Sign up at https://gsc.upenn.edu/newsletter
Social activities and opportunities for campus and community volunteer engagement
The Graduate Resource Guide (https://gsc.upenn.edu/resources) with links for graduate orientation, new student resources, living in Philadelphia and much more.
---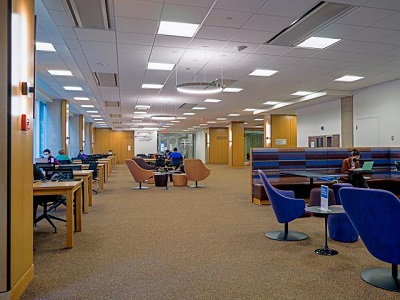 Biotech Commons
Johnson Pavilion
36th & Hamilton Walk
Philadelphia, PA 19104
215-898-5815
https://www.library.upenn.edu/biotech-commons
Formerly called the Biomedical Library, this recently renovated building has fresh new space and reserveable rooms of varying sizes for individuals and groups. You can reserve a room or a book and schedule a consultation with a research librarian through their website.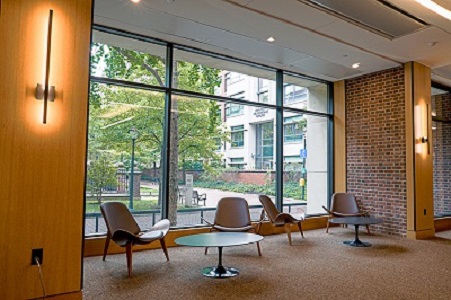 Textbooks for current MSGC classes are kept on reserve here. They also offer Interlibrary Loan, poster printing and more. Expert librarians can provide one on one assistance with research. For more about the library's services: https://guides.library.upenn.edu/about-biotech-commons
For information on resources available at other Penn libraries visit: https://www.library.upenn.edu/
---
Career Services
McNeil Building, Suite 20
3718 Locust Walk
Philadelphia, PA 19104
(215) 898-7531
Email: careerservices@vpul.upenn.edu
Website: http://www.upenn.edu/careerservices
Penn Career Services provides workshops and tips on networking, resume review, interviewing, salary negotiation, connections with alumni, and other career resources for both students and alumni.
---
DART (Digital Academic Research Transformation)
1300 Blockley Hall


Phone: 215-573-9185
http://www.med.upenn.edu/infotech/
DART is the Computing and Information Services for the Perelman School of Medicine.
For help with PennKey issues: https://www.med.upenn.edu/dart/psompennkey.html
For help with PennMedicine email accounts: medhelp@pennmedicine.upenn.edu
---
Division of Public Safety
4040 Chestnut Street
Philadelphia, PA 19104
General Information - 215.898.7297
https://www.publicsafety.upenn.edu/
Emergency Aid:
Emergencies - 215.573.3333
From Campus Phones - 511
24/7 Walking Escort Service:
Uniformed Allied Universal Public Safety Officers provide walking escorts to all campus locations. Officers are dispatched by radio and will accompany you from one campus location to another, to your parked vehicle, to a Penn Transit Stop or to an on-campus SEPTA regional transit stop.
Available 24 hours a day, 365 days a year, between 30th to 43rd Streets and Market Street to Baltimore Avenue.
Escorts also extends west to 50th Street, and north/south from Spring Garden to Woodland Avenue, between 10 a.m. and 12 a.m. via the University's partnership with the University District Ambassador Program.
How to Request a Walking Escort:
Ask any Public Safety Officer on patrol or inside a building
Call 215-898-WALK(9255) or 511 (from campus phone)
Use one of the many building and blue-light ephones located on and off Penn's Campus.
Automobile Lockout and Jumpstart Services:
Penn Security Services offers free 24/7 lockout & jump-start services to anyone on Penn's campus. Simply call 215-573-3333 (511 from a campus phone) and a Public Safety Officer will be dispatched to your location.
Auto, bicycle and pedestrian safety
Theft Awareness
Self-defense courses
---
Fisher Fine Arts Library
The Fisher Fine Arts Library is regarded as one of the most important library buildings in the world. It is also one of Philadelphia's great buildings and most important interiors. Every year, the Fisher welcomes visitors from all over the world to explore the space.
Your PennCard gives you access to this beautiful library for those days when you need a different study space, or when you want to pretend you are actually preparing for your final exams in Potions and Defense Against the Dark Arts.

---
Graduate and Professional Student Assembly (GAPSA)
GAPSA represents UPenn's graduate students across all schools in conversation with the Administration and advocates for policies and support for the graduate community. They also sponsor social events for graduate students throughout the year. Other highlights include:
Resources and support for students by identity, including:
Indigenous students
Students with disabilities
Black students
Latinx students
Asian students
LGBTQ+ students
Women
Funding for student research:
GAPSA is also responsible for funding graduate school governments, student groups, student-led initiatives, and individual student grants. The organization has many sources of funding available to University of Pennsylvania graduate and professional students for travel, research, initiatives, and events. For more information: http://www.gapsa.upenn.edu/funding-opportunities-1
Discount tickets:
GAPSA purchases tickets to Philadelphia sporting events, local theater, concerts and various local events throughout the year. Tickets can be purchased by graduate and professional students at a heavily subsidized rate.
See more at http://gapsa.upenn.edu/
---
IDEAL MEd
(Inclusion, Diversity, Equity and Learner Experience Program in Medical Education)
Jordan Medical Education Center, 6th floor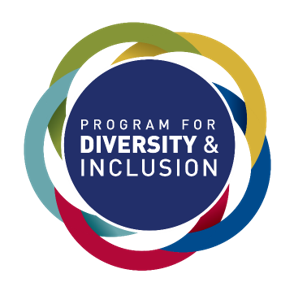 3400 Civic Center Boulevard, Bldg. 421
Philadelphia, PA 19104
https://www.med.upenn.edu/idealmed/
With a commitment to reaffirm an inclusive and diverse culture, IDEAL, established in August 2021 at the Perelman School of Medicine, will address the individual and group needs of marginalized students in a deliberate and focused manner. In addition, this program will necessarily engage all learners for the purpose of creating an inclusive and anti-racist climate at PSOM through education and training. In partnership with PSOM's Office of Inclusion, Diversity, and Education (OIDE), IDEAL will ensure that our curricula are devoid of structural racism, and our teaching faculty and staff have the necessary skills and resources to participate in the creation and maintenance of an inclusive, diverse, and equitable culture for Penn learners.
---
Student Registration & Financial Services (SRFS)
100 Franklin Building
3451 Walnut Street
215.898.1988
https://srfs.upenn.edu/sfs
SFS is your one stop shop for:
Program Costs & Budgeting
Billing, Payments & Account Balances
Financial Aid – both applying for and managing loans
Student Employment
Registration, Catalog & Calendar
Student Records
Policies & Publications
Financial Aid Counselors who are available to help you with your questions and concerns, including tax questions related to financial aid, scholarships, and student employment
---
Weingarten Learning Resources Center
Stouffer Commons, Suite 300
3702 Spruce Street
Philadelphia, PA 19104
215-573-9235
https://weingartencenter.universitylife.upenn.edu/
Student Disability Services: This office works closely with students who self-identify with a disability, in order to ensure equal access to all University programs, activities and services.
Academic workshops and support: Learning specialists support students through individual consultations and group workshops that often address time/project management, organization, academic reading, research and writing, problem-solving, and exam preparation.
---
Wellness at Penn - Student Health Services

3535 Market Street (36th and Market)
Suite 100 (floor 1)
Philadelphia, PA 19104
Read all about it at https://www.wellnessatpenn.com/
The newly re-organized center is built upon two pillars (Student Health and Counseling and Public Health and Wellbeing) that operate collaboratively to create a campus community centered on wellness. Review the many services they offer at https://wellness.upenn.edu/student-health-and-counseling.
The Wellness at Penn initiative affirms wellness as a core priority and necessary driver of life on campus. It offers opportunities to reflect and engage on issues of wellness, stress, mental health, resilience, happiness, personal and academic goals, and the meaning of success. And it defines wellness as an ongoing holistic process with multiple dimensions.
Wellness at Penn aims to spotlight, empower, and catalyze the wide range of partners advancing wellness on campus and provide avenues of dialogue and collaboration for them to sustain their essential work.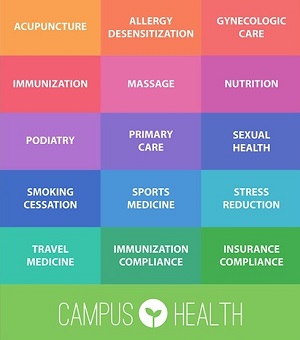 This center and its website are important resources for
access to a wide variety of health care services
counseling services
required student health forms
immunization requirements and documentation
health records
health and wellness education
referrals for students on the Penn Student Insurance Plan (PSIP)