Admissions
Prospective Student Events
Prospective Student Events
Open Houses & Webinars
We host several virtual admissions events each year, from June through November. Dates are announced on the website and through Facebook and Instagram in advance of each session.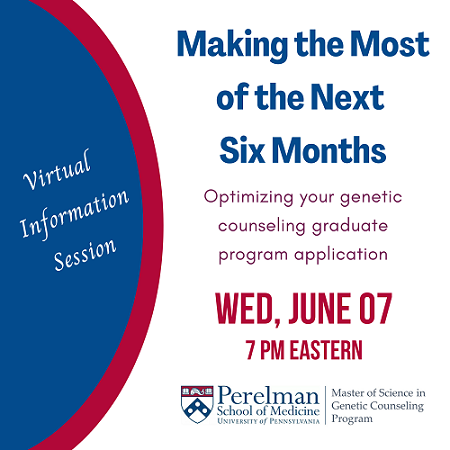 Join us for the first prospective student event of the 2024 admissions cycle. Our virtual open house will take place on Wednesday, June 7, 2023, at 7:00 PM Eastern time. We'll focus on steps you can take in the next six months to prepare your application for the coming fall. Learn more about graduate education in genetic counseling, the admissions process, and qualities of successful candidates.
Register at https://hosting.med.upenn.edu/forms/zulu/view.php?id=471297.
---
For an overview of the program and admissions information, please view the video of the slides and audio from this October 2022 admissions event.
---
Summer Internships
In summer 2023 we will again be offering full-time, paid (40 hours/week @ $15/hour = $3,600) summer internships for undergraduate students from populations/groups that are under-represented in genetic counseling. The internships will be six-weeks long (from mid-June to the end of July). This experience will provide students interested in a career in genetic counseling with exposure to a broad range of clinical genetics specialties, research and laboratory work, shadowing in multiple clinical settings, and opportunities for one-on-one interviews with genetic counselors.
Click here for detailed information on the internships and how to apply.
The deadline to apply is February 1st and results will be announced in mid-March.