Admissions
Timeline & the NMS Match
Admissions Timeline & the NMS Match
National Matching Services
We participate in the Genetic Counseling Admissions Match through National Matching Services (NMS). The Admissions Match was adopted by the Association of Genetic Counseling Program Directors in 2017 as the system to place applicants into positions in masters-level genetic counseling programs accredited by the Accreditation Council for Genetic Counseling.
Before applying to participating genetic counseling graduate programs, applicants must first register with NMS to receive their unique Code Number for the upcoming Match. They then share this number with any programs they apply to and use it to submit their own ranked list to NMS in the spring. Applicants can register as early as September and are strongly encouraged to register no later than early December. NMS charges each applicant a $100 non-refundable registration fee.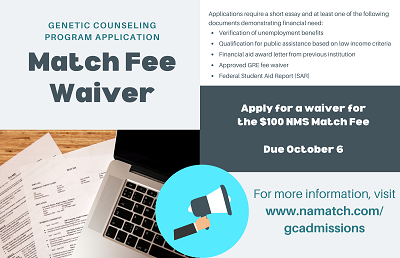 The Association of Genetic Counseling Program Directors has established a waiver for the $100 fee associated with the NMS Match. Prospective students who demonstrate financial need AND have a cumulative GPA of 3.0 or greater can apply for a match fee waiver. Prospective students should apply for a fee waiver BEFORE registering for an NMS number, typically by the end of September.
There are a limited number of waivers, so not all applicants will receive a waiver. Instructions for how to register for the NMS match will be provided to those who receive a waiver. Interested applicants can click here for more information and a fee waiver application: https://natmatch.com/gcadmissions/applicants/register.html#waiver
At the conclusion of program interviews, applicants and programs submit ranked lists of preferences to NMS, following the schedule posted on the NMS website. For 2023, Rank Order Lists are due on April 11th.
Our program listing appears like this:

After the deadline for the submission of rank order lists, the NMS applies an algorithm that considers both applicants' and programs' preferences. The binding results of the Match are released to applicants and programs by email simultaneously on a set date in late April.
The NMS website provides more detailed information about the matching process, a video explaining how the algorithm works, and a complete schedule of dates and deadlines.
Timeline for 2023 Admissions
| | |
| --- | --- |
| September 1, 2022 | UPenn MSGC Program applications open |
| December 15, 2022 | Deadline for applicants to register with NMS to receive their Match Code Numbers |
| December 20, 2022 | UPenn MSGC Application deadline. All application documents, along with a $75 non-refundable fee, must be submitted via CollegeNet. |
| January-February | The Admissions Committee reviews applications during this time. Typically about one-third of applicants are invited to interview via emails sent in mid February. |
| March-early April | Interviews take place. For 2023, all interviews will be virtual. |
| April 11, 2023 | National Matching Services Rank Order List Deadline |
| April 19, 2023 | Match Day - Match results released to applicants and programs by email |
| Late April 2023 | Candidates who match with Penn's program will receive a detailed commitment letter. |
| mid-May 2023 | Deadline for candidates to return acceptance letter with a $500 deposit. This deposit is applied to the first-semester tuition, and it is non-refundable if students fail to enter the program on the date for which they are accepted. |
| Late August 2023 | Classes begin |