Curriculum
Thesis Research
Thesis Research as a Genetic Counseling Student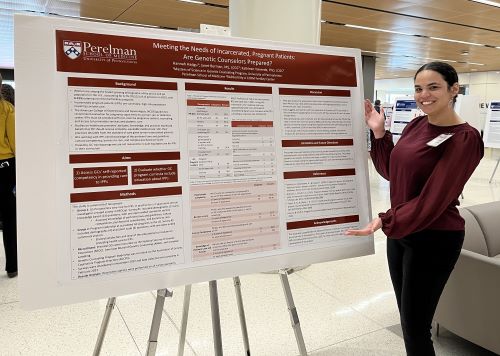 As a requirement of graduation, every student in the program completes an individual research project. Writing a master's thesis is a major accomplishment and a daunting task. That's why the program is structured to guide students through the process. Projects are selected by students based on their interests, and topics are finalized and clarified during the first semester. Students refine their proposals as they complete literature reviews and develop their IRB submissions during a course in research design in the spring semester of the first year.
Throughout the summer and in their second year, students collect and analyze data and write their thesis manuscripts, all under the supervision of their primary mentors: one who is a member of the program leadership and one who is an expert in the field of study, often a genetic counselor or UPenn faculty member. Each student is also supported throughout the process by a research committee comprised of a Penn faculty member, a practicing genetic counselor and a member from the program leadership. The committee meets periodically to review progress and provide feedback from an objective perspective.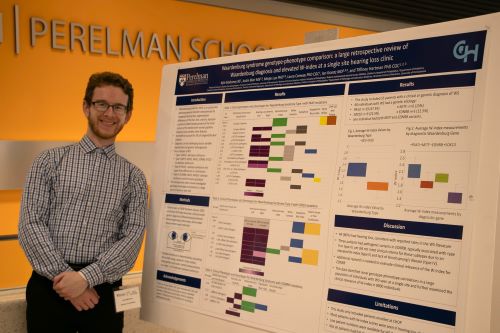 Research projects range from professional surveys and chart reviews to qualitative studies of small populations of patients with rare diseases, again depending on student interest. Small grants are available through the program to support the research. Students are also encouraged to apply for funds available through NSGC SIGs and other organizations, and many have received research funding.
The majority of students successfully submit abstracts to local and national conferences and for publication toward the end or soon after their second year in the program.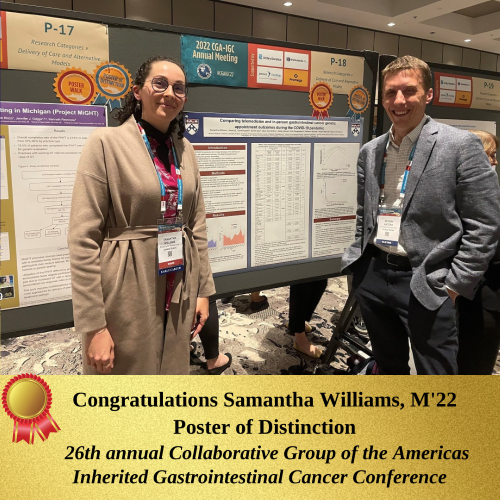 Our 2023 graduates have presented or will soon be presenting at the 43rd Annual Society for Maternal Fetal Medicine Pregnancy Meeting, the 2023 Mitochondrial Medicine Symposium, the North American Cystic Fibrosis Conference, the ACMG Annual Clinical Genetics Meeting, NSGC (including an Educational Breakout Session), Pennsylvania Association of Genetic Counselors Annual Meeting (5), and the University of Pennsylvania's Perelman School of Medicine's Master's Student Research Symposium (17!). A number of 2023 graduates already have manuscripts in review with more in the final stages of submission to a journal.
Having gained experience in all aspects of the research process, students graduate from the program with the capacity to develop a research idea, to conduct ethical research, to interact with an IRB, to convert raw data to a written and comprehensible document, and to work collaboratively on a professional project.
---
Recent publications from thesis research:
Sullivan KR, Ruggiero SM, Xian J, Thalwitzer KM, Ali R, Stewart S, Cosico M, Steinberg J, Goss J, Pfalzer AC, Horning KJ, Weitzel N, Corey S, Conway L, Son Rigby C, Bichell TJ, Helbig I. A disease concept model for STXBP1-related disorders. (2023). Epilepsia Open. https://doi.org/10.1002/epi4.12688
Williams S, Ebrahimzadeh JE, Clay D, Constantino G, Heiman J, Wangensteen KJ, Valverde K, Mahmud N, Katona, B.W. Comparing telemedicine and in-person gastrointestinal cancer genetic appointment outcomes during the COVID-19 pandemic. Hered Cancer Clin Pract. 2023 May 8;21(1):6. PMID: 37158974; PMCID: PMC10165576. https://pubmed.ncbi.nlm.nih.gov/37158974/
Cohen SR, Helbig I., Kaufman MC, Myers LS, Conway L, Helbig KL. Caregiver assessment of quality of life in individuals with genetic developmental and epileptic encephalopathies. Dev Med Child Neurol. 2022 Aug;64(8):957-964. doi: 10.1111/dmcn.15187. Epub 2022 Feb 28. PMID: 35229292; PMCID: PMC10305579. https://pubmed.ncbi.nlm.nih.gov/35229292/

Lee G, Varughese LA, Conway L, Stojinski C, Ashokkumar S, Monono K, Matthai W, Kolansky DM, Giri J, Tuteja S. Attitudes toward pharmacogenetics in patients undergoing CYP2C19 testing following percutaneous coronary intervention. Per Med. 2022 Mar;19(2):93-101. doi: 10.2217/pme-2021-0064.

Cohen SR, Helbig I, Kaufman MC, Schust Myers L, Conway L, Helbig KL. Caregiver assessment of quality of life in individuals with genetic developmental and epileptic encephalopathies. Dev Med Child Neurol. 2022; 00: 1-8. doi:10.1111/dmcn.15187.

Wadman E, Conway L Garbarini J, Baker M. Moral distress in genetic counseling: A study of North American genetic counselors. J Genet Couns, 2022; 00: 1-11. https://doi.org/10.1002/jgc4.1551

DeJesse J, Vajravelu RK, Dudzik C, Constantino G, Long JM, Wangensteen KJ, Valverde KD, Katona BW. Uptake and outcomes of small intestinal and urinary tract cancer surveillance in Lynch syndrome. World J Clin Oncol 2021; 12(11): 1023-1036. doi:10.5306/wjco.v12.i11.1023

Crawford K, Xian J, Helbig, KL, et al. (2021). Computational analysis of 10,860 phenotypic annotations in individuals with SCN2A-related disorders. Genetics in Medicine: Official Journal of the American College of Medical Genetics, 23(7), 1263–1272. doi.org/10.1038/s41436-021-01120-1

Hartman TR, Demidova EV, Lesh RW, Hoang L, Richardson M, Forman A, Kessler L, Speare V, Golemis EA, Hall MJ, Daly MB, & Arora S. (2020). Prevalence of pathogenic variants in DNA damage response and repair genes in patients undergoing cancer risk assessment and reporting a personal history of early-onset renal cancer. Scientific Reports, 10(13518). doi.org/10.1038/s41598-020-70449-5

Price E, Robbins SJ, Valverde KV. Increasing diversity in the genetic counseling profession: Development of recruitment tools for African American undergraduate students. J Genet Couns, 2020 Apr;29(2):224-233. doi: 10.1002/jgc4.1280

Grand K, Katz L, Crowley B, Moss E, Lessig M, Bamba V, Zackai E, Emanuel B, Valverde K, and McDonald-McGinn D. (2018). Impact of Hypocalcemia on Full Scale IQ in Patients with 22q11.2 Deletion Syndrome. American Journal of Medical Genetics: Part A. 2018 Oct; 176 (10): 2167-71. doi: 10.1002/ajmg.a.40535.

McCarty A, Miller J, Pennington J, Fecteau H, Kessler L. (2018). Utilization of the Tablet Application Proband in Pedigree Construction and Assessment. J Genet Couns. 2018 Apr;27(2):406-415. doi: 10.1007/s10897-017-0197-1.