Curriculum
Curriculum Overview
Becoming a Genetic Counselor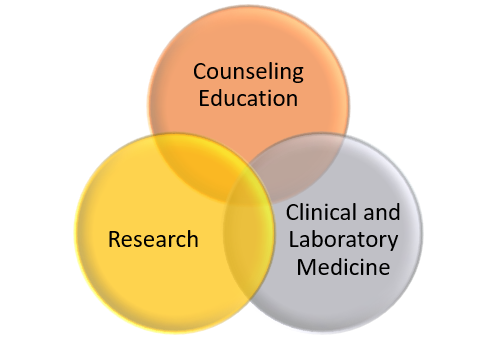 Preparing to become a genetic counselor involves education in laboratory and clinical medicine, counseling, and research. Students in the University of Pennsylvania's Master of Science in Genetic Counseling program develop a comprehensive understanding of the complex clinical management of patients with genetic conditions as well as the options for diagnostic testing.
Coursework in counseling helps students cultivate the knowledge and skills to address the needs of patients, families, community advocacy groups and other health professionals. The curriculum covers advanced genetics and genomics, genetic testing technologies, clinical medicine and genetics, counseling techniques, case management, cultural humility, psychosocial assessment, principles of medical ethics and public health, patient advocacy, research design and professional development. Through the program's strong emphasis on clinical, translational, and implementation research, students gain the research and writing skills necessary to develop and publish literature relevant to the profession. This core curriculum provides the foundation necessary to prepare students for the ever-changing practice of clinical genetics.
The program has 14 required CUs (credit units) as well as non-credit bearing degree requirements including clinical internships, genetic counseling rounds, professional development seminars, and advocacy experiences. A degree will only be conferred after successful completion of all coursework, clinical internships, professional degree requirements, and an approved master's thesis.
Courses are coordinated and taught by experienced Penn and CHOP genetic counselors, faculty members and clinicians, as well as the program leadership. Courses have been developed specifically for the scientific, clinical, and professional needs of the genetic counseling students.