Announcements
An update from the PSOM Portrait Review Committee
An update from the PSOM Portrait Review Committee
12/09/21
Dear Colleagues,
Last year, as part of Penn Medicine's overarching efforts and commitment to identifying areas that address and advance diversity, such as through Action for Cultural Transformation, the PSOM Portrait Review Committee was established as an advisory group to the Dean. We are delighted to share with you the significant work that has been undertaken, beginning with an initiative of which we are immensely proud: honoring and celebrating the life and legacy of Dr. Helen O. Dickens.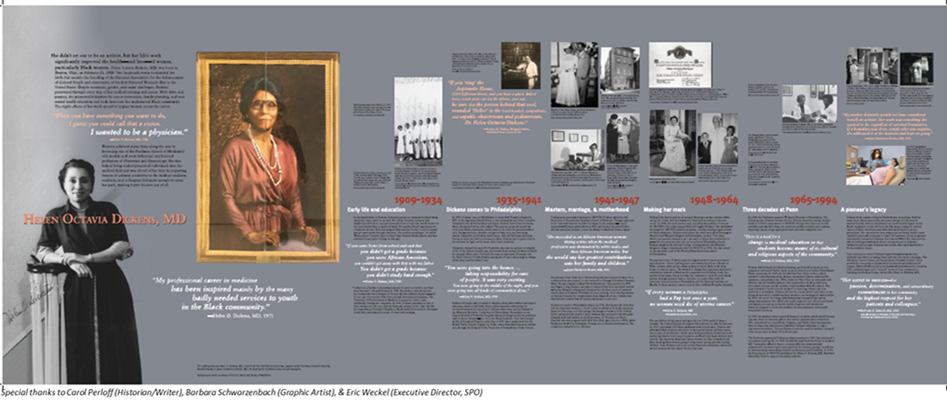 Located prominently on the first floor of Stemmler Hall, a main thoroughfare connecting our research labs to our clinical spaces, this new display highlights the many accomplishments and contributions of Dr. Dickens, who in 1946 became Philadelphia's first African American woman to receive board certification from the American Board of Obstetrics and Gynecology, and later the first African American woman admitted to the American College of Surgeons. In fact, Dr. Dickens was the "first" in many impactful ways, and we encourage you to visit this impressive display and to read more about her work here.
On December 2, the 20th anniversary of Dr. Dickens' passing, we were honored to dedicate this tribute in the presence of Dr. Dickens' family. It is our hope that all who walk along this display will be inspired by Dr. Dickens' dedication to healing, teaching, mentoring, and serving every person who comes through our doors.

Ongoing efforts
One of the first steps by the Committee was developing, distributing, and collecting comments from a survey to understand the perspectives of our community on the visual displays around the PSOM campus. The several hundred responses helped to inform many of our efforts, such as the development of the Dickens' display. The results provided ideas on how best to highlight our current faculty as well as ways to recognize diversity in team science, an effort on which we are actively working.
In addition, with the remarkable help of second year medical school student, Charlotte Lee, we are in the process of cataloguing all of the portraits on the PSOM campus. We will delve deeper into the histories of these portraits and find ways to enhance our ability to share impactful stories.
As we continue the important work of this committee, we welcome your comments, thoughts, and ideas to ensure that excellence in our community is visually represented in a way that embraces diversity, teamwork and collaboration, honors our distinguished past, and fosters an inspirational and aspirational environment for the entire PSOM community.
Sincerely,
Marisa Bartolomei, Cell & Developmental Biology, Co-Chair
Michael Ostap, Physiology, Co-Chair
Clyde Barker, Surgery
Léolène Carrington, Biomedical Postdoctoral Program
Ronald Collman, Medicine
Kojo Elenitoba-Johnson, Pathology and Laboratory Medicine
Jonathan Epstein, Executive Vice Dean and Chief Scientific Officer
Carmen Guerra, Medicine
Steven Joffe, Medical Ethics & Health Policy
Rachel Kelz, Surgery
Dorothy Leung, Office of the Executive Vice Dean and Chief Scientific Officer
Florence Momplaisir, Medicine
Elana Pyfrom, Biomedical Graduate Studies
Zoe Ruhl, Medical Education
Amita Sehgal, Neuroscience
Michael Simoni, Master's Programs
David Steinberg, Orthopaedic Surgery
Eric Weckel, Space Planning and Operations