How to Apply
Prospective students enter the program by applying for admission to the Immunology Graduate Group through the PhD, VMD/PhD, or MD/PhD programs at the University of Pennsylvania. Penn immunology graduate students have the opportunity to perform a full-time 12-week research rotation with a mentor in the Intramural Research Program (IRP) during which they investigate important questions in the field of basic, translational and clinical immunology. If a NIH lab is chosen as a thesis lab, the graduate student then transitions to NIH Intramural Research Program to complete their thesis.
Eligibility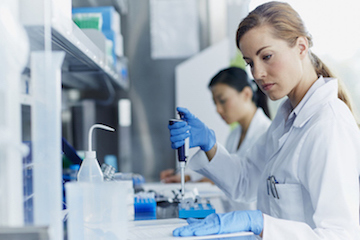 This program is designed for recently matriculated, first- or second-year graduate students enrolled in Biomedical Graduate Studies (BGS) at the University of Pennsylvania, especially those interested in pursuing a PhD in immunology. The research experience is undertaken as an integral part of the student's ongoing academic preparation and is credited towards completion of doctoral degree requirements.
Please note: In order to be approved for physical access to NIH facilities and systems, Penn immunology graduate students must be able to pass a Federal background check, using Standard Form-85. Section 14 of the Form asks, "in the last year, have you used, possessed, supplied, or manufactured illegal drugs?" The questions pertain to the illegal use of drugs or controlled substances in accordance with Federal laws, even though permissible under state laws. Federal laws supersede all state laws.
How to Apply
If you would like to conduct research at NIH:
Contact the Director of the NIH-Penn Immunology Graduate Partnership Program as soon as you accept an offer of admission to the PhD, MD/PhD, or VMD/PhD program
Obtain approval from the IGG chair
Submit your GPP application package to upennimmunograds@mail.nih.gov. Be sure to include the following:

A cover letter describing your research interests and rotation goals
Your curriculum vitae or resume
The names and contact information for three references
A copy of your transcripts to facilitate processing your appointment at the NIH

Select your NIH Mentor