Schipani Lab
News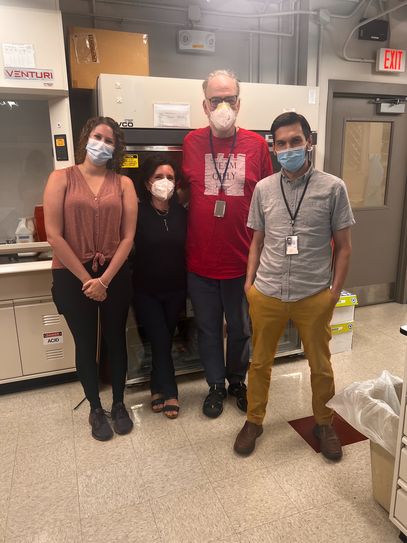 Dr. Schipani interviewed in Science article
October 13, 2023
Dr. Schipani was interviewed by Science to comment on a recent Nature article about hemoglobin in chondrocytes. Check it out!

https://www.science.org/content/article/more-red-blood-cells-depend-hemoglobin-surprising-study-cartilage-reveals#:~:text=The%20authors%20%E2%80%9Cprovide%20solid%20and,t%20connected%20to%20the%20research
Giulia to present at ASBMR
September 20, 2023
Giulia Lanzolla will present her poster titled "Pharmacological inhibition of HIF2 prevents trabecular bone loss in ovariectomized mice" at the 2023 ASMBR conference.
Congratulations Elena!
September 01, 2023
Elena Sabini is now a Research Associate in the Schipani Lab!
Mohd Khan a hit at ASBMR 2023!
August 04, 2023
Mohd's abstract has been selected as a talk at the ASBMR 2023 annual meeting and he has been awarded a Mid-career Faculty Travel Grant as well! In October he will present his work titled "Loss of TFAM in PRX1 lineage cells causes an Osteogenesis Imperfecta-like phenotype and increased HIF1a activity prevents it".

https://www.asbmr.org/annual-meeting
Schipani Lab Awarded NIH R01 grant
March 13, 2023
The Schipani Lab was awarded a R01 grant from the NIH to study the effects of HIF-1 during the process of somitogenesis!
Stina as Keynote Speaker at the 4th H.Fleisch workshop
November 22, 2022
Stina attended the 4th Herbert Fleisch Workshop as a Keynote Speaker in Bruegge Nov 20-22, 2022
Dr. Schipani and Brittany attended the GRC Bone and Teeth Conference
September 18, 2022
Dr. Schipani was the chair of the Gordon Bone and Teeth conference in Ventura California in September. Brittany Laslow attended to present her poster titled "Loss of HIF1 alters the process of Somitogenesis". The conference was a great success and good times were had by all!
Congrats to Mohd on his promotion!
August 01, 2022
Mohd has been promoted to Research Associate in the Schipani Lab
Congrats Mohd!
May 20, 2022
Congratulations to Mohd in the Schipani Lab for getting his green card!
Welcome Giulia!
January 31, 2022
We want to welcome Giulia Lanzolla, M.D. who has joined the Schipani Lab as a postdoctoral fellow coming to us from the University of Pisa.
Welcome Elena
September 01, 2021
The Schipani Lab welcomes post-doc Elena Sabini!
Welcome to the Schipani Lab, Lorenzo Arboit!
July 15, 2021
Lorenzo is a visiting medical student from St. Anna School of Advanced Studies in Pisa Italy. He hopes to expand his knowledge of bone biology while working on a project with the Schipani Lab!
Welcome to the Schipani Lab, Dian Wang!
July 01, 2021
Dian Wang joins the Schipani Lab as a histology technician!
Welcome Perry!
February 22, 2021
Perry Bruder just arrived from Michigan to work in the Schipani Lab! Unfortunately, he brought a lot of snow with him :(
The Schipani Lab Joins McKay Orthopedic Research Laboratory!!!
November 01, 2020
Dr. Ernestina (Stina) Schipani has joined the University of Pennsylvania Perelman School of Medicine as the William Wikoff Smith Professor of Orthopaedic Surgery. She is located within the McKay Orthopedic Research Labs and over the years she has used cartilage and bone tissues as models to establish important principles in the broader fields of G-protein coupled receptors and hypoxia biology. She brings post doc Mohd Parvez Khan, Ph.D. with her and hired Brittany Laslow, M.S. as the lab's new lab manager!