PGY1
Sean Udell, MD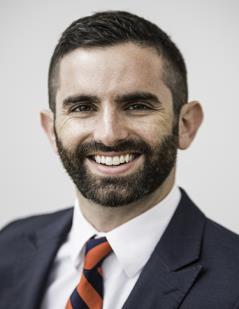 As a first-year resident, we rotate throughout the Penn system, which includes Pennsylvania Hospital in Center City, the main hospital in University City, and Presbyterian and VA Hospitals in West Philadelphia. My first block of intern year was "off-service," and this particular block is a bit of a hodge-podge of rotations, including a month of medicine, a month of neurology, and a month of the psychiatric emergency room. (For reference, the other "off-service" block is two months of medicine and one month of emergency medicine.)
As a citizen of West Philadelphia, I'm a short walk or bike ride to most of the locations within the Penn system. It's a 20 minute trolley or bike ride to Pennsylvania Hospital in Center City. Our psychiatric emergency room (aka the Crisis Response Center, aka the CRC) is at Pennsylvania Hospital, so I had more of a commute on my first month of intern year. It was July, though, which meant that I rode my bike to work. We start a bit later at the CRC at 8am, and I relished the extra time in the morning to read the newspaper (yes, a physical one — support local journalism!) and drink my coffee out of a proper mug instead of a tumbler. Things get moving pretty quickly once you step into the building, though. You see patients as they come, and we tended to be quite busing during the month in July, as the hot weather has a way of bringing more people to care. As an intern, you're expected to take about an hour to interview, staff, and document your patient encounter, and I would end up seeing about 6-10 patients/day during the 10 hour shift. You work the CRC Monday through Friday, and you have approximately 2 weekend call days during the month as well. All-in-all, it works out to be a nice month. You see a wide range of acuity and have a reasonable amount of free time to live your best life in Philadelphia.
My next month was on the neurology consult service at Presbyterian Hospital. The days started earlier at 7am, but my bike ride is significantly shorter to Presby. 7am start times also encourage me to embrace meal prepping breakfast and lunch at the start of each week, meaning that I didn't have to wake up earlier than 6am to get to signout at 7. Once we receive signout from the night team, we independently follow-up on the consult patients who we are following. From 8-9am, there is neurology teaching conference, and after that, we began rounding with our boss attending Dr. Christina Blum. She's a stroke expert and excellent teacher. Rounding often took the whole morning (as rounding does), bringing us to noon conference at noon! By 1pm, there would be new consults to see, and I'd generally do those independently. By 3 or 4pm, we'd staff the new consults again with Dr. Blum, and that would take us to signout to the night team at 6pm. Again, on neurology, you have about 2 weekend call days, so life is bumping on neurology, too.
My most recent month was on the medicine service at the main hospital. Days also start at 7am, which was much more reasonable than I had remembered. Your team admits patients every-other-day. This means that you typically stay at the hospital from 7am-7pm on admitting days, but on non-admitting days you can leave in the mid-afternoon if the work is done and your sister team is able to manage your patients while they wait for 7pm signout. Medicine days are medicine days: you pre-round from 7am-8:30am, teaching is from 8:30-9am, rounding is from 9am-noon, there is an hour-and-a-half of work-time until intern report at 1:30pm, and then you have the rest of the day to complete tasks and admit new patients. These days are packed. Consultants and interdisciplinary staff are constantly vying for your attention, so the days are *very* busy and fly by. On medicine, you typically have one day off per week (often on a weekday), but there is no psychiatry call, so it's very doable. I truly enjoyed my first medicine month, but I was quite happy to return to psychland by the end of it!
Back to Top