PGY2
Michael Roman, MD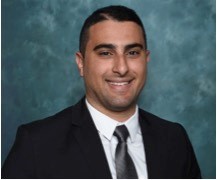 My work day typically starts with chart checking patients on my phone on my subway ride or walk over to the hospital. Living in University City, I'm a short walk away from HUP, Presbyterian Hospital, and the VA medical Center. Philly's excellent public transportation allows me to get to Pennsylvania Hospital on the other side of town in less than 20 minutes. Chart checking on my phone allows me to game plan of the day ahead of time so that I can hit the ground running when I get to the inpatient psychiatry wards. As a PGY-2, it's my time to take control of the service and in essence be the junior attending on service. The faculty here at Penn are attuned to this and constantly foster an environment of learning and supervision that enables me to master the ins and outs of acute inpatient psychiatry.
The PGY-2 curriculum at Penn is enriched with electives that truly reflect this program's commitment to my personal career development. But what I really think makes this program unique is its flexibility and dedication to a truly personalized curriculum. Just 2 months into my PGY-2 year, I experienced this flexibility first hand when I started to see patients for weekly psychotherapy under the guidance of my Penn faculty supervisor. Although most residents don't start seeing therapy patients until PGY-3 year, my supervisor and program director allowed me to get a head start on pursuing an aspect of psychiatry that is of great importance to me. Thanks to their program's commitment to excellence and innovation, my love for this specialty has continued to grow as I've been able to connect with patients on a deeper level than I ever could have imagined.
When I'm not running the service on the inpatient floors or delivering high quality therapy to patients, I enjoy exploring this awesome city with co-residents and friends while simultaneously taking advantage of its amazing food, history, art, and sports culture. As I've reflected on my time here as a resident so far, I can say with certainty that I appreciate what a blessing it is to be a training physician at one of the top tier institutions in the country.
Back to Top