Prolonged Exposure Therapy for Adolescents with PTSD
October 15, 2021
(1 day addition to the Intensive Workshop in Prolonged Exposure Therapy)
Co-sponsored by: Philadelphia Behavior Therapy Association
Who may attend: This workshop is open to licensed mental health professionals and those working under a license that have completed the 4-day Intensive Workshop in Prolonged Exposure Therapy within the last 5 years.
Date: October 15, 2021
Times: 9:00 am to 5:00 pm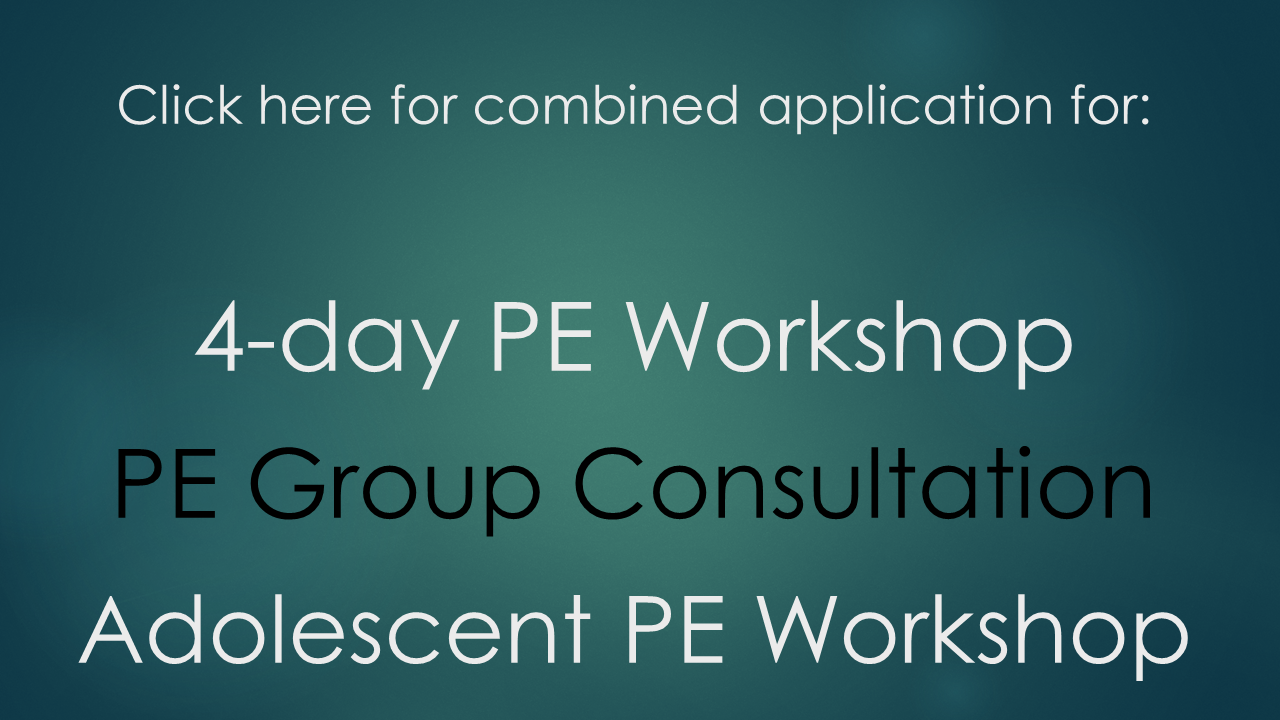 Workshop Description: Dr. Sandy Capaldi will provide instruction in the basic differences between PE and PE-A, use excerpts from videotaped sessions to illustrate how to use PE with adolescents, discuss when and how to implement PE-A, and provide guidelines for how and when to modify PE techniques to tailor the therapy to adolescents.
Webinar workshop requirements:
You must have utilities, internet service, phone service, and an appropriately private location at your home or office in order to ensure HIPAA compliance.

The private location should be free of noise and distractions. (If you are the parent of young children, appropriate child care arrangements must be in place.)

You must agree to attend each hour of the video conference and agree to use video of yourself during the video conference in order to track attendance.

You must purchase the paperback version of the Adolescent PE Therapist Guide and Adolescent Patient Workbook (available in many places but here are links to purchase on Amazon):

You must agree not to copy or distribute workshop materials provided to you in the course of the workshop.

Since authentic patient videos are utilized during the training, you must agree to abide by all applicable rules of confidentiality and HIPAA compliance, including but not limited to no audio or video-recording of the workshop in any form.
You will be asked to affirm the previous conditions and your agreement to them prior to the commencement of the workshop.
If you are interested in and eligible for Continuing Education credits, read below:
THE PHILADELPHIA BEHAVIOR THERAPY ASSOCIATION (PBTA) IS APPROVED BY THE AMERICAN PSYCHOLOGICAL ASSOCIATION TO SPONSOR CONTINUING EDUCATION FOR PSYCHOLOGISTS. PBTA MAINTAINS RESPONSIBILITY FOR THE PROGRAM AND ITS CONTENT. THIS PRESENTATION PROVIDES SIX (6) HOURS OF CE CREDITS FOR PSYCHOLOGISTS.
PBTA IS ALSO AN AUTHORIZED PROVIDER FOR CONTINUING EDUCATION CREDITS FOR PROFESSIONAL COUNSELORS, MARRIAGE AND FAMILY THERAPISTS, AND CLINICAL SOCIAL WORKERS LICENSED IN THE STATE OF PENNSYLVANIA - THIS PROGRAM PROVIDES SIX (6) HOURS OF CE CREDITS.
In order to receive continuing education credits, participants must:
attend each hour of the workshop (no late arrivals or early departures)

complete a post-test and course evaluation
If both of these requirements are met, you will receive a continuing education certificate after the conclusion of the workshop.
Applications are due October 3, 2010. Applicants will be notified of acceptance within one week of receipt of their application. Please do not make travel or other arrangements until your application is accepted.
Instructions for Submitting Application
Applications can be submitted via email only at this time:
Email (as a Microsoft Word or PDF attachment): Dr. Sandy Capaldi (sandraca@pennmedicine.upenn.edu)
Application Acceptance
You will receive a confirmation via email if your application is accepted. Please do not make travel or other arrangements until your registration is confirmed. Note that we can only reserve your space when you provide payment information.
Payment Information
Workshop fees are non-refundable. Please note that payments will not be processed until after this date.
We accept credit card only at this time (Discover, MasterCard, and Visa). Unfortunately, we do not accept American Express.
Additional Resources
Click for more information about Prolonged Exposure Therapy
Back to Top