Research Day - Overview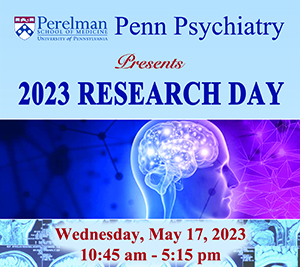 Penn Psychiatry will host its 2023 Research Day on May 17, 2023 beginning 10:45 am through 5:15 pm in the Smilow Center for Translational Research – Arthur H. Rubenstein Auditorium & Commons.
The day will include a Poster Session, providing a wonderful opportunity for faculty to display and share their work. New Assistant Professors will be showcased and presenting their recent research. Philadelphia Neurodevelopment Cohort will provide updates and future plans.
Back to Top