Welcome to CAMB
From the Chair
The Cell and Molecular Biology Graduate Group (CAMB) is an interdisciplinary graduate program, providing rigorous training in modern cell and molecular biology. Within this integrated program are six discipline areas: Cancer Biology (CB); Cell Biology, Physiology, and Metabolism (CPM); Developmental, Stem Cell, and Regenerative Biology (DSRB); Genetics and Epigenetics (G&E); Gene Therapy and Vaccines (GTV); and Microbiology, Virology, and Parasitology (MVP). Program faculty include 418 scientists from the Perelman School of Medicine, the Schools of Arts and Sciences, Dental Medicine, Veterinary Medicine, the Children's Hospital of Philadelphia, and the Wistar Institute. The research efforts of these extraordinary scientists are diverse in their focus, experimental system, methodology, and represent the leading edge of basic and translational biomedical science.
Currently, 443 graduate students from colleges and universities around the nation and the world are enrolled in the program. Students select one discipline area based on their scientific interests, yet have access to the full breadth of curricular and research opportunities provided by our large and diverse program. Our students participate in core courses in cell and molecular biology, specialized coursework in one or more discipline areas, and original hypothesis-driven thesis research. Upon completion of the PhD, they pursue successful research careers at top academic institutions, in the biotech and pharmaceutical industries, and in other biomedicine-related career paths.
Our mission is to provide an exceptional mentored training experience to every student, providing a foundation for successful careers as leaders in biomedical research. We welcome prospective students who are dedicated to the search for new knowledge.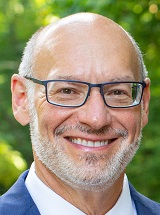 Daniel S. Kessler, PhD (he/him/his)
Chair, Cell and Molecular Biology Graduate Group