Clinician-Patient Communication
Patient-centeredness has been referenced as the inclusion of patients' perspectives and preferences in care, as well as provision of the information patients need if they want to participate in medical decision making.
Recent Institute of Medicine (IOM) reports have included "patient-centeredness" among six key indicators that will shape the country's future quality of health care agenda.
Professional medical education also has embraced enhanced patient-centeredness.
Proficiency in patient-centered communication skills will be demanded and assessed by key medical accrediting and licensing bodies during the next ten years.
Clinician - patient communication is one of the most interesting but least understood aspect of clinical care.
Good communication can lead to better health. It is associated with:

improved physical health
more effective chronic disease management
better health-related quality of life long after the clinical encounter

Despite research efforts on communication, little is known about the key elements of effective communication, and how, and in what ways, clinician-patient communication affects health outcomes and behaviors.
Clinician-patient communication can affect health directly or health indirectly, through mediating efforts of proximal outcomes such as building trust, patient satisfaction and greater mutual understanding, and through intermediate outcomes such as change in patient behavior or adherence to treatment.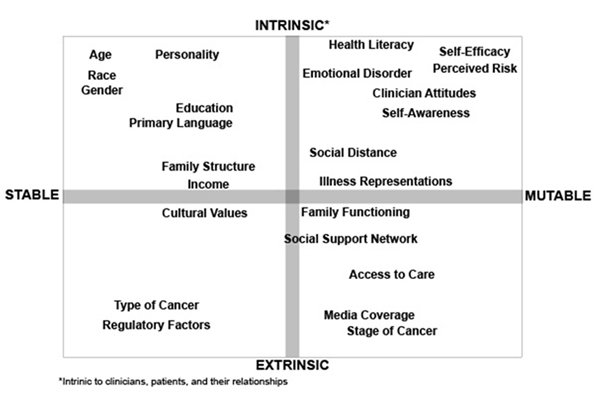 Level of patient involvement during clinical encounter may vary on a continuum from totally passive to extremely active.
Although various models of patient-provider communication have been proposed, Roter and Hall's four levels model is widely-used.

The level of control the provider and patient have determines which of the four typologies is operating.

Roter and Hall's four levels model of patient-provider communication:

Paternalistic

Low degree of involvement by patient
Provider has greater control over the interaction

Consumerism

Patients exercise greater control in the interaction
Patient likely to have more say while provider is likely to be more sensitive to patient's goals

Default

Neither the provider nor the patient has greater control
This can result in patient dissatisfaction and nonparticipation

Mutuality

Balance in control between both the provider and patient
Decision making is more likely to be participatory