This is an example of construct measurement from a study designed to identify predictors of future fruit and vegetable intake in Norwegian elementary school students. This is a good example of measuring and testing multiple constructs of SCT.
While reading through this example, pay extra attention to these areas:
The constructs studied (highlighted in red).
Test-retest correlation (Also called test-retest reliability - used to assess the consistency of a measure from one time to another. A higher correlation coefficient indicates greater reliability.)
Internal consistency reliability (Used to assess the consistency of results across items within a scale. A higher Cronbach's alpha indicates greater consistency.)
Below are a sample of items from each scale.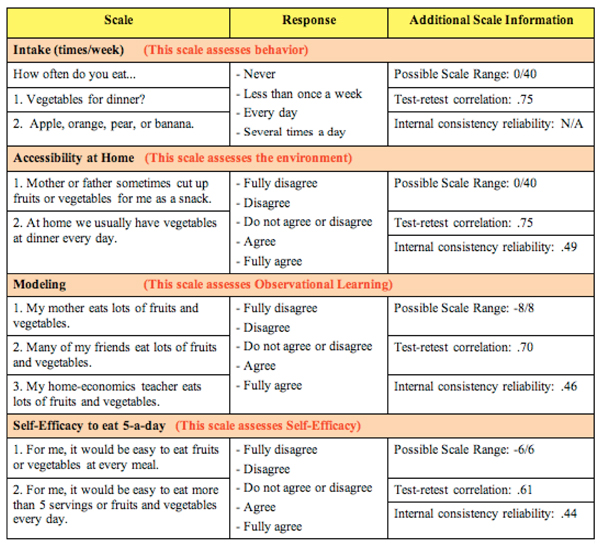 Strengths:
Researchers measured several constructs from SCT together, thus providing a more accurate view of behavior. Specifically, researchers examined: Current behavior (intake)

Environmental factors (accessibility at home and at school)
Behavior of role models (observational learning of parents, teacher, friends)
Self efficacy

Reliability of measures were assessed by test-retest correlations and internal consistency reliability using Cronbach's alphas.
Limitations:
Internal consistency reliability (Cronbach's alphas) were low for each subscale indicating that additional items may be needed in order to increase reliability coefficients.
This study was done in Norway, which has a relatively homogenous population, compared to places like the United States. The validity of these items when applied to different populations should be considered and empirically tested.
Source: Bere, E, Klepp KI. Changes in accessibility and preferences predict children's future fruit and vegetable intake. International Journal of Behavioral Nutrition and Physical Activity 2005; 2:15.
In this study of individuals with spinal cord injuries, researchers defined self-efficacy as "one's confidence to plan and carry out physical activities and/or exercise based on their own volition".
Respondents indicated confidence using a 4-point rating scale:
| | |
| --- | --- |
| * 1 = not at all true | * 2 = rarely true |
| * 3 = moderately true | * 4 = always true |
Reliability testing indicated a high Cronbach's alpha (.93), meaning that the items are highly correlated and work well together in a scale.
Content validity, assessed with cognitive interviews and expert reviews, indicated a good fit with the construct of self-efficacy.
Construct validity was high, with all 10 items loading onto a single factor (called Spinal Cord Injury Exercise Self-Efficacy), explaining 60% of the variance.
Spinal Cord Injury Exercise Self-Efficacy Items: I am confident that:
I can overcome barriers and challenges with regard to physical activity and exercise if I try hard enough.
I can can find means and ways to be physically active and exercise.
I can accomplish my physical activity and exercise goals that I set.
When I am confronted with a barrier to physical activity or exercise I can find several solutions to overcome this barrier.
That I can be physically active or exercise even when I am tired.
That I can be physically active or exercise when when I am feeling depressed.
That I can be physically active or exercise even without the support of my family or friends.
That I can be physically active or exercise without the help of a therapist or trainer.
That I can motivate myself to start being physically active or exercising again after I've stopped for a while.
That I can be physically active or exercise even if I had no access to a gym, exercise, training, or rehabilitation facility.
This study examined medication adherence self-efficacy among low-literacy patients using a pictographic scale [10]. The scale used three scenarios and demonstrated good internal consistency reliability (a = .68) and test/retest reliability (r = .63). These kinds of pictographic scales may be especially useful in low-literate populations.