Coaching Algorithm for Teaching Development
Document Purpose: For EOs to provide coach and faculty member with framework.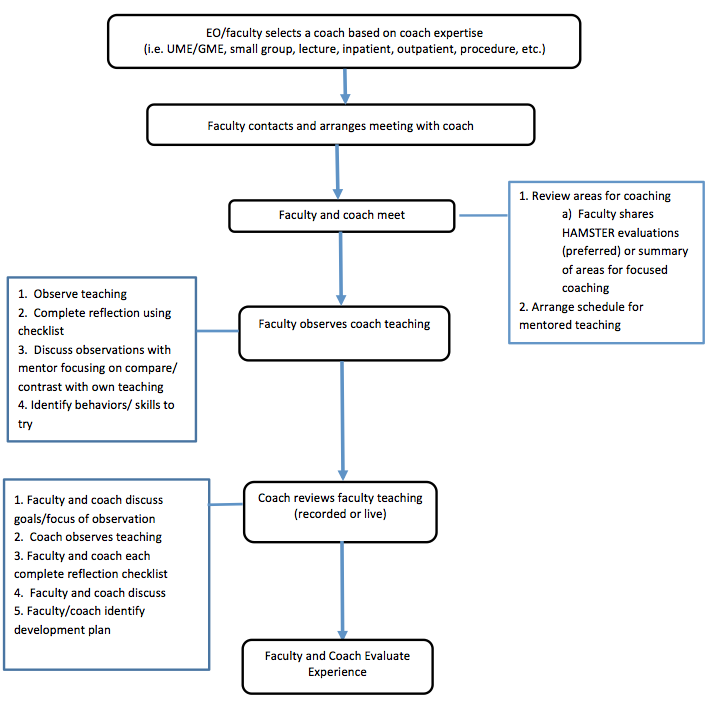 The purpose of the Coaching Algorithm for Teaching Development is for EOs to provide the coach and faculty member with a framework. First the EO/faculty selects a coach based on coach expertise (i.e., UME/GME, small group, lecture, inpatient, outpatient, procedure, etc.). Next the faculty contacts and arranges meeting with the coach. During the meeting they review areas for coaching (Faculty shares HAMSTER evaluations (preferred) or summary of areas for focused coaching.) and arrange a schedule for mentored teaching. The faculty member observes the coach teaching, completes a reflection using a checklist, discusses observations with the mentor, focusing on compare/contrast with their own teaching, and identifies behaviors/skills to try. After the faculty and coach discuss the goals and focus of the upcoming observation, the coach observes the faculty teaching (recorded or live). Both faculty and coach each complete a reflection checklist, discuss it, and identify a development plan. At the end of the process, the faculty and coach evaluate the experience.
Resources